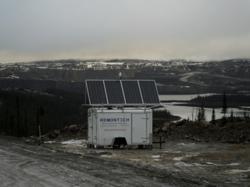 You can now monitor and control your construction project from your desk, regardless of how remote the project is.
St. Thomas, Ontario (PRWEB) June 29, 2011
Remontech has developed and successfully deployed a number of new Mobile Monitoring Stations (MMS) throughout North America. New construction projects are often located in areas with very little infrastructure where it is extremely difficult to obtain power and a reliable Internet connection. These locations are also often far from the construction manager's place of work.
The Mobile Monitoring Stations enable Remontech to deliver real-time camera feeds to their clients, as well as remote recording of construction progress. This helps ensure that projects are delivered on time and on budget.
Historically it has been a challenge to monitor construction projects from day one, as equipment needs power, an internet connection and a physical location for mounting. In most construction projects there are many construction activities that take place before a site trailer is present, and before any infrastructure is available. The Mobile Monitoring Station solves this logistical problem by capturing construction progress from the very beginning.
The Mobile Monitoring Stations provide:

Live feeds from the construction sites;
A physical location for camera and equipment mounting;
A wireless internet hotspot for site personnel;
Time-lapse recordings of construction projects from day one;
A visual warning to potential criminal or vandal activity;
Managerial presence onsite even when managers are not physically there;
Flexibility for camera positioning: the station can be moved around the site as construction activity progresses.
To learn more about our Mobile Monitoring Stations and how they can help managing construction projects, contact us.
Visit us at http://www.remontech.com
# # #