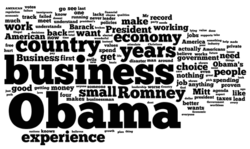 Los Angeles, CA (PRWEB) October 04, 2012
To better understand how the construction industry views the upcoming presidential election, BuildZoom conducted a survey of licensed remodeling and construction contractors across the US.
The research revealed that:
1. Nearly 3 out of 4 of contractors believe that Mitt Romney would do a better job as president and trust him more to handle economic issues such as the budget deficit, taxation and job creation.
2. Pro-Romney contractors empathize with his business experience and believe he would have a more positive impact on the general economy and construction sector than Obama.
3. Pro-Obama contractors believe he is more in tune with the middle class and are critical of Romney's character and perceived lack of empathy for the middle class.
4. Nearly half of the respondents ported that the Recovery Act hasn't helped at all while 33% responded that it has helped "a little." A majority of contractors (77%) reported that they had not been provided with enough information on how to take advantage of Recovery Act opportunities.
The full findings, data and research methodology are available on the BuildZoom blog: http://www.buildzoom.com/talk/construction-industry-favors-romney-presidential-elections
About BuildZoom
BuildZoom empowers homeowners to make better hiring decisions by providing them with a simple and effective way to find the best service provider for their next job. BuildZoom uses a Big Data approach that analyzes over 2 million remodeling contractors in the US against a broad set of quality indicators such as their license status, BBB ratings, consumer feedback and more. Each contractor is given an independent rating that determines their placement on BuildZoom.com, where consumers can freely browse and search to find the right service provider for their next job.