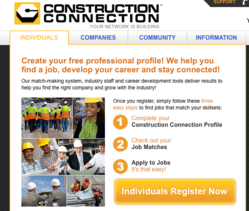 The enhanced site features a patent-pending one-of-a-kind profile builder..that is beneficial for everyone in the construction industry.
Austin, TX (PRWEB) June 03, 2011
Construction Connection, the construction industry resource and networking group, recently re-launched their website, http://www.constructionconnection.com, to bring added value and to make the site more accessible to construction industry professionals. The improved site is dedicated to the construction community, and provides an array of resources for both job seekers and employers.
The enhanced site features a patent-pending, one-of-a-kind profile builder and match-making system that is beneficial for everyone in the construction industry. Companies and individuals can build detailed profiles about themselves - helping individuals find the right company, and helping quality construction companies locate the best matched employees. These features, along with construction industry staff and career development tools, deliver results to help job seekers and companies grow within the industry.
"I'm proud to announce that we have completely revamped our home page and have also added a new vendor page. The goal is to make it easier to find the content you need whether its jobs or job candidates, or industry articles to improve your business," said Suzanne Breistol, co-founder.
The site goes beyond the ability for companies to post jobs and search for qualified candidates. It helps align contractors and companies and allows them to build relationships. Companies and individuals can then network with one another for jobs, project collaboration, resources and more.
The re-launch also allows Construction Connection to offer a more extensive construction industry resource area, with news, interesting tidbits, productivity tips and tricks, and articles on accounting and finance, career tips, and more. Construction Connection's active social media and blog tools harbor a rapidly growing network of experts and offer insight on construction communities across the US and the world.
About Construction Connection
ConstructionConnection.com was founded in 2009 out of a need for a more effective and streamlined way for construction industry professionals to get matched with the right industry jobs. The business has evolved into a place for the construction industry to find individuals, subcontractors, and relevant information, make connections and build relationships. Individuals can find jobs and companies can post jobs for free. Construction Connection offers toolbox talks, career tips, construction trends, newsletters and a weekly blog.
###