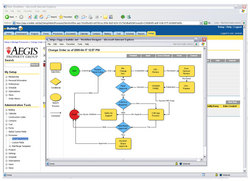 Ft. Lauderdale, FL (PRWEB) September 22, 2009
e-Builder, the leader of integrated capital program and project management software, announced today that the West Linn-Wilsonville School District has selected e-Builder Enterprise to reduce costs and enable efficiency improvements during execution of its 4-year bond program. The West Linn-Wilsonville Department of Operations, responsible for managing construction, will leverage e-Builder to eliminate a mix of spreadsheets, paper documents, and external databases used to track project data. In doing so, the Operations Team will improve cost controls and project execution across its entire bond program. e-Builder will streamline a broad range of business processes to mitigate delays, and provide real time visibility for the school board into the program's status using the system's integrated reporting engine and executive dashboards.
The West Linn-Wilsonville School District has recently approved a $98 million bond program that will address growing population demands by building new schools and renovating existing ones. The e-Builder project management system will enable existing project managers to efficiently handle the increased work load without increasing headcount. e-Builder Enterprise will also reduce the time the Operations Team spends managing and compiling data for reporting purposes. Integrated reports and dashboards will pull information in real time to present the board with an accurate view of the program's status.
Before adopting e-Builder's project management software, the Operations Team had to spend an undue amount of time entering data in multiple systems (spreadsheets, emails, accounting databases, and paper documents), and then trying to consolidate this data for tracking purposes. The time and effort involved in putting together status reports limited the time available to actually manage over 40 concurrent projects. Also, lack of a system to standardize and automate processes required more time to execute tasks during project delivery. The team now has a single point of data entry, and a way to standardize and enforce business processes resulting in preliminary savings of 1,000 man-hours.
About West Linn-Wilsonville School District
The West Linn-Wilsonville School District covers 42 square miles in the south metropolitan area of Portland, Oregon. The district includes two towns, West Linn and Wilsonville, and a rural area of Clackamas County. The district buildings have a total of approximately 1.38 million square feet covering roughly 375 acres. The district is a K-12 public school system with approximately 8,300 students and over 400 teachers.
About e-Builder
e-Builder is the leading provider of fully integrated capital program and project management software for top facility owners and companies that act on their behalf. The company's flagship product, e-Builder Enterprise, improves capital project execution resulting in increased productivity and quality, reduced cost, and faster project delivery. Since 1995, e-Builder's technology leadership and construction industry focus has provided thousands of global companies, government agencies, healthcare and educational institutions managing billions of dollars in capital programs with solutions to improve the plan, build and operate lifecycle. The company is privately held and headquartered in Fort Lauderdale, Florida. For more information, visit http://www.e-Builder.net.
###