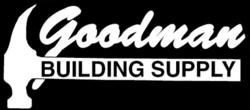 We want to give a big thank you to our employees and management who worked very hard on re-certifying Goodman
Mill Valley, CA (PRWEB) July 25, 2012
The first-ever county-certified green hardware store in Marin, Goodman Building Supply, recently received its green re-certification, and is giving credit to its employees and management for being supportive of the company's efforts in going and staying green.
"We want to give a big thank you to our employees and management who worked very hard on re-certifying Goodman," Zviki Govrin of Goodman Building Supply said. "In conjunction, Goodman is also pleased to announce that we now have more than 5,000 green products and continue to add new ones each month."
The newest products available at the store include the most energy-efficient LED tube lighting, the Viribright line of T8 LED tube lighting by Matrix Lighting. This product is supported by the Green Building Council, Green Energy Council and the American Lighting Association, and meets the requirements of the DOE Caliper Lighting Facts Partner Program. The building material store has also expanded its line of drip irrigation systems, Craftsman tools, Bully construction-grade garden tools, and vacuum bags and belts.
In addition to its efforts to help the environment, Goodman Building Supply also holds special events and seminars to help educate its customers about products and other matters. One upcoming event is the Fifth Annual Women's Day in August.
"Catch our Fifth Annual Women's Day in August," Govrin said. "We plan on having more vendor demonstrations and seminars, select professionals from our referral service list, and of course, finger foods and other refreshments, plus a 20-percent discount on all items in the store."
For more information about Goodman Building Supply, which is located at 775 Redwood Highway in Mill Valley, call 415-388-6233 or view the hardware store on the Web at http://www.GoodmanBuildingSupply.net.
About Goodman Building Supply
Goodman Building Supply is a Marin hardware store that specializes in an array of building materials, construction supplies and home improvement resources. Its services consist of, but are not limited to, key cutting, glass cutting, garden services, barbecue delivery and assembly, pipe cutting, lamp repair, lumber service, color matching, paint services and pool/spa water testing.