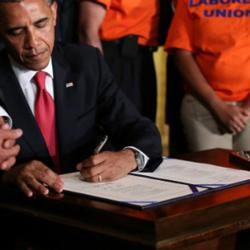 This bill will keep thousands of construction workers on the job rebuilding our nation's infrastructure.
Minneapolis, Minnesota (PRWEB) July 07, 2012
The National Association of Home Builders (NAHB) and its members, who rely on the National Flood Insurance Program (NFIP), are celebrating its five-year reauthorization signed yesterday at the White House with strong support from Democratic leader, Barbra Boxer, and James Inhofe, an Oklahoma Republican. "This bill will keep thousands of construction workers on the job rebuilding our nation's infrastructure," Obama said on Friday, July 6, 2012. Last week Congress reached an agreement to reauthorize the program through Sept. 30, 2017. It passed 373-52 vote by the U.S. House and 74-19 vote by the U.S. Senate.
Destiny Home has experienced days when construction work was forced to a halt while the homeowners wrestled with challenges due to lapses in the NFIP.
Past lapses in authorization have forced many home buyers to delay or cancel closings because they simply couldn't obtain NFIP insurance for a mortgage. Home builders faced situations where they were forced to stop or delay construction due to the lack of flood insurance approval. This resulted in unnecessary delays, complicated reordering of project time lines, and job losses.
Federally backed mortgages In flood-prone areas has been a long-standing challenge for home builders. The NFIP has bumped along through 18 short-term extensions and was encumbered for the last four years without a solid long-term reauthorization being granted from D.C. If the new construction and home renovation industry experienced another lapse, we could continue to see some buyers unable to get federally backed mortgages in flood-prone areas without coverage.
The National Association of Home Builders says, "NAHB has been working tirelessly to make sure that this vital program, which was set to expire on July 31, was reauthorized for five years to ensure that the federally-backed flood insurance program operates smoothly and without delay, remains efficient and effective in protecting property owners, and creates more stability in the housing market," said NAHB Chairman Barry Rutenberg, a home builder from Gainesville, Fla. "The five-year extension of the NFIP ensures that the program will remain available, affordable and financially healthy."
The National Association of Realtors, said in April, "Fannie Mae, Freddie Mac and the Federal Emergency Management Agency have all issued statements saying that closings should go through and that flood insurance approval would be granted after the program is re-authorized. But that has not assuaged many buyer's attorneys, who are reluctant to assume responsibility, in case the program is altered, and have counseled buyers to wait." The bill means homeowners and construction companies can forge ahead unhindered in this area.
As we have witnessed in other facets of homeowner's insurance, costs may go up; the cap on annual premium hikes to 20 percent, from 10 percent under current law. Destiny Homes calculates that, if a homeowner considers how increases could compound over the next four years, a premium of 1,500 could double to $3,000.
Several changes in the bill are:

The NFIP portion of the measure would eliminate the federal subsidy on premiums for new or lapsed policies on second homes.
Allow increases of 25 percent a year for certain properties such as vacation homes or homes with repeated claims.
Set minimum deductibles of $1,000 to $2,000, depending on age the home and the amount of coverage.
Includes a clarification sought by National Association of Federal Credit Unions (NAFCU) regarding lenders' force-placement of flood insurance when homeowners allow the coverage to lapse.
Increases the cap on annual premium hikes to 20 percent, from 10 percent under current law.
Low-lying homes and areas near lakes, rivers and creeks are most at risk. Flood zones are geographic areas that the FEMA has defined according to varying levels of flood risk. These zones are depicted on a community's Flood Insurance Rate Map (FIRM) or Flood Hazard Boundary Map. At the FEMA website, homeowners can search by address to retrieve the flood map for a specific property.
Homeowners in the Minneapolis / St Paul metro area can reach Destiny Homes at 952-934-5706 to engage a top awarded Construction Company for a remodeler whose years of experience makes sure all areas of permits, insurance and project time lines are care for.