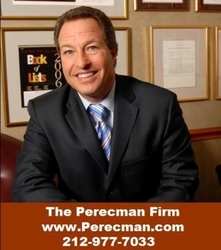 New York Super Lawyers, Metro Edition
New York, NY (PRWEB) August 27, 2009
Sadly, William Barnes became another victim of crane accidents on construction sites as he lost his life according to the Daily News. As he was working on the Throgs Neck Bridge, the newspaper reports a boom snapped and crushed him. New York construction accident lawyers such as David Perecman continue to fight for construction site safety for this exact reason.
In an interview with the Daily News, FDNY Battalion Chief Joe Downey said, "He was controlling the boom on the side of the truck and for some reason, the boom fell, it was pinned right behind his head and his neck." Like many other crane accidents, there is no clear reason the boom came crushing down killing this construction worker and OSHA will be conducting an investigation to determine the safety of this construction site.
"Time and time again, these construction workers are being killed by crane accidents, scaffolding not properly working and other serious infractions that are putting workers and innocent bystanders in harms way. We need to continue to press the government and construction companies to ensure everyone's safety on construction sites," said New York construction accident lawyer, David Perecman."
About David Perecman and The Perecman Firm, PLLC:
For the past 25 years, the New York personal injury lawyers, construction accident, auto accident and medical malpractice lawyers at The Perecman Firm, PLLC have championed all types of cases for personal injury accidents. David Perecman, founder of the Firm, is the past Secretary of the New York State Trial Lawyers Association (NYSTLA) and a chair of its Labor Law Committee. Mr.Perecman's achievements have brought him recognition as an Honoree in the National Law Journal's Hall of Fame, in New York Magazine's "The Best Lawyers in America" and The New York Times Magazine "New York Super Lawyers, Metro Edition".
The Firm has recovered millions of dollars for its clients. Among the more recent victories, Mr. Perecman won a $15 million verdict* for a construction accident, a $5.35 million dollar verdict** for an automobile accident, and a $40 million dollar structured settlement for medical malpractice.
*later settled while on appeal for $7.940 million
** later settled for $3.5 million
"Lawyer Advertising"
"Prior results do not guarantee a similar outcome."
###