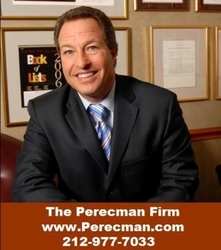 New York Super Lawyers, Metro Edition
NEW YORK, NY (PRWEB) September 3, 2009
Much to the dismay of New York construction accident lawyers, a crane operator died last week following a construction accident at the Throgs Neck Bridge. The cause of the incident has yet to be identified, leaving authorities to consider it a freak accident. The New York construction accident lawyers who will represent the family will be left to figure out how a cable simply snaps without a cause.
A FDNY official said the worker was guiding the boom of the crane when a cable snapped, causing him to be pinned against the machinery. The crane operator was pronounced dead at the scene of the crane accident in New York.
"In many cases, crane accidents occur due to lax construction safety measures in New York," construction accident lawyer David Perecman said. "There is tremendous responsibility to address this before anyone else gets hurt or killed on a construction site."
The Throgs Neck renovation has been plagued by trouble.
"In New York, construction accident lawyers work hard to enforce construction safety laws," Perecman explained. "In this case, experienced New York construction injury lawyers will help determine if there is a claim for personal injury because of the tragic incident."
About David Perecman and The Perecman Firm, PLLC:
For the past 25 years, the New York construction accident lawyers, personal injury, auto accident and medical malpractice lawyers at The Perecman Firm, PLLC have championed all types of cases for personal injury accidents. David Perecman, founder of the Firm, is the past Secretary of the New York State Trial Lawyers Association (NYSTLA) and a chair of its Labor Law Committee. Mr. Perecman's achievements have brought him recognition as an Honoree in the National Law Journal's Hall of Fame, in New York Magazine's "The Best Lawyers in America" and The New York Times Magazine "New York Super Lawyers, Metro Edition".
The Firm has recovered millions of dollars for its clients. Among the more recent victories, Mr. Perecman won a $15 million verdict* for a construction accident, a $5.35 million dollar verdict** for an automobile accident, and a $40 million dollar structured settlement for medical malpractice.
*later settled while on appeal for $7.940 million
** later settled for $3.5 million
"Lawyer Advertising"
"Prior results do not guarantee a similar outcome."
###