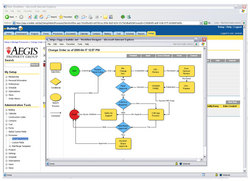 Ft. Lauderdale, FL (PRWEB) August 21, 2009
e-Builder, the leading provider of integrated capital program and project management software, announced today that Cedars-Sinai Medical Center, the largest nonprofit hospital in the western United States, has deployed e-Builder Enterprise 7 as their standard program and project management system for the design and construction of the Advanced Health Sciences Pavilion. The project is part of an ongoing $1 Billion Facility Master Plan being managed by the institutions Facilities Planning, Design and Construction (FPDC) group. e-Builder will be used to automate business processes, control the capital project budget, and standardize reporting capabilities to provide visibility into the project status and overall capital execution performance.
As part of the implementation, e-Builder is being integrated with Solomon, Cedars-Sinai Medical Center's project financial accounting system, so that project data that is currently spread out across Excel, Solomon, and other project management systems can now be managed in one location. The result will be greater efficiency in generating financial reports and reconciling critical project information. In addition, the FPDC's ability to create ad hoc reports on the information required by the broad governing constituencies will be greatly simplified.
The Advanced Health Sciences Pavilion, totaling over 800,000 square feet, is the biggest single project undertaken by the CSMC FDPC team. A project this large and complex normally requires 5 to 7 full-time employees (FTEs) through the design phase. However, process improvements achieved with e-Builder have enabled the FPDC team to manage the project with only 2 ½ FTEs through the design process.
The FPDC team has collaborated with e-Builder to enable a structured set of repeatable, predictable and measurable construction administration processes. The project team is also relying on e-Builder's document control module as the hub for archiving and distributing design, bidding and contract documents (drawings/specs). With over 3,000 drawing sheets and a multiple package project this is a huge benefit enabling Cedars-Sinai to save a substantial amount of money by not relying on third-party vendors to manage their document archives.
About Cedars Sinai
Since its founding in 1902, Cedars-Sinai has focused on providing the highest quality healthcare available. Cedars-Sinai Medical Center is composed of more than 2,000 physicians in almost every clinical specialty, 10,000 employees, 2,000 volunteers, 15,000 fundraising support group members. These individuals form a unique partnership in helping deliver world-class medicine to the community, and to patients from across the United States and around the world. Cedars-Sinai physicians and scientists are leaders in basic and clinical research, bringing advancements in medicine directly from the laboratory to the bedside. With an eye to the future, Cedars-Sinai trains the next generation of physicians, researchers and allied health professionals. More than 350 residents and fellows participate in more than 60 graduate medical education programs to learn the latest diagnostics and treatments. Cedars-Sinai is committed to providing the highest quality patient care. Our quality is measured in high patient satisfaction scores, continuous clinical performance initiatives, excellent medical outcomes, ongoing research and academic programs, and national designations and awards. For more information, visit http://www.cedars-sinai.edu .
About e-Builder
e-Builder is the leading provider of fully integrated capital program and project management software for top facility owners and companies that act on their behalf. The company's flagship product, e-Builder Enterprise, improves capital project execution resulting in increased productivity and quality, reduced cost, and faster project delivery. Since 1995, e-Builder's technology leadership and construction industry focus has provided thousands of global companies, government agencies, healthcare and educational institutions managing billions of dollars in capital programs with solutions to improve the plan, build and operate lifecycle. The company is privately held and headquartered in Fort Lauderdale, Florida. For more information, visit http://www.e-Builder.net .
###