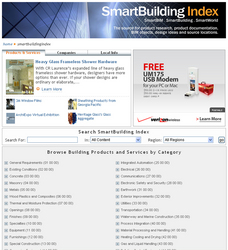 SmartBuilding Index is a powerful construction industry resource, bringing together both designers and suppliers with significant benefits for both sides
NORCROSS, GA (PRWEB) March 11, 2009
Reed Construction Data, a leading provider of construction information, today announced the integration of its U.S. and Canadian building product and manufacturer directories, giving the North American construction industry a single destination for building product and supplier information.
Content from Buildcore.com, the leading Canadian building product and manufacturer directory will now be hosted on SmartBuildingIndex.com. Content includes illustrated product profiles, 10-part technical product datasheets, 3-part proprietary specifications, CAD drawings and manufacturer catalogues.
SmartBuilding Index is a search engine optimized website that helps construction professionals find valuable information about building products and suppliers in a simple, comprehensive format.
Architects, engineers, specifiers and consultants can quickly and accurately search, select and specify building products through a comprehensive library of formatted commercial building product information that includes manufacturers' addresses, telephone numbers, trade names and regional distributors. Visitors can search by country (U.S. or Canada) or by U.S. state or Canadian province for more targeted searching.
"SmartBuilding Index is a powerful construction industry resource, bringing together both designers and suppliers with significant benefits for both sides," explained Mark Casaletto, Managing Director, Reed Construction Data Canada.
Building product manufacturers can increase their market exposure with premium listings on SmartBuilding Index.com. A premium listing can include company information, product information, technical documentation, service descriptions and distribution channels.
Manufacturer profiles on SmartBuilding Index are also search engine optimized to help increase their profile ranking on Google (NasdaqGS: GOOG), Yahoo! (NasdaqGS: YHOO) and other popular search engines. In addition to profiles, datasheets and specifications, visitors can also find and download generic and manufacturer-specific BIM objects from Reed's SmartBIM solutions.
For more information, visit http://www.smartbuildingindex.com/.
Building product manufacturers interested in a free or premium listing, visit http://www.reedconstructiondata.com/b2b-marketing/smartbuilding-index/.
# # #