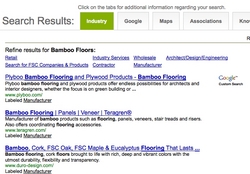 I started this project for personal use, and it quickly evolved into a great resource that improved our purchasing efficiency
Syracuse, NY (PRWEB) April 2, 2009
Finally, you can search the Internet for nails and get nails. BuildingSupplySearch.com, a new search engine provided by Lute Lumber, eliminates needless sifting through irrelevant results when searching for construction materials and other building-industry related information.
Lute Lumber's custom building supply search engine (BuildingSupplySearch.com) returns industry-specific results to any search term. In business, time is money. Lee Buttolph, operations manager at Buttolph Lumber Co., Inc., Lute Lumber's parent company, realized he was wasting a lot of time every day trying to find reliable and relevant building-supply information using traditional search engines.
"I started this project for personal use, and it quickly evolved into a great resource that improved our purchasing efficiency," said Buttolph. "We decided to make this resource available to other construction professionals, so we fast-tracked the development stage to site launch in a matter of months."
Buttolph began developing the custom search engine in July 2008 in response to his own frustration over the lack of a single resource for building and construction solutions. Using Google Custom Search Engine, Buttolph narrowed in on 6,000 Web sites worth searching and created several different search tabs (industry, maps, associations, knowledge, news and government) for even more specific areas of interest. He even included a "Google" tab that provides a basic Google search in case he missed anything. Now, the BuildingSupplySearch.com platform allows anyone with a need to find search results targeted to building.
According to Rick Wald, account executive at Certified Wood Products, Inc., BuildingSupplySearch.com is quickly becoming the preferred starting point for any materials search. "As a building materials wholesaler, we need to locate product quickly for our customers," said Wald. "BuildingSupplySearch.com returns results that we can really use."
Over time, BuildingSupplySearch.com will be even more fine-tuned. Buttolph's plans include topic specific pages including green building materials.
About Lute Lumber:
Lute Lumber's BuildingSupplySearch.com sifts through more than 6,000 building-supply company and industry-related Web sites. It does the work of sorting out the Web pages that have nothing to do with building yet show up in a general crawler-based search engine such as Google. Lute Lumber organizes your search into multiple categories (industry, knowledge, government, news and associations) to return a customized set of results that are crisp, relevant, and easier to view and comprehend. Lute Lumber's custom building supply search is a division of Buttolph Lumber Co., Inc. For more information about Lute Lumber, visit About Lute Lumber.
###