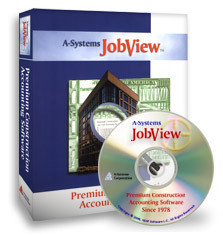 We have supported the construction industry for over 30 years, pioneering what we do. When we see tough times like we have now, we step up to help. Right now, it is critical that contractors have a tool for monitoring and controlling costs, and that is what we are offering
Salt Lake City, UT (PRWEB) June 27, 2008
During the first week of July, A-Systems is offering the Small Builder Edition of its 5-Star rated construction accounting software for free. Contractors can have their own licensed copy of A-Systems JobView® shipped to them via US Priority Mail for the cost of shipping and handling. JobView is a fully integrated construction accounting program being used by thousands of construction companies from coast to coast of this great nation.
A-Systems was the first company to create job cost accounting software for the PC, and has been providing the construction industry with robust job-costing software for over 30 years. A-Systems JobView is a scalable package that is designed to grow with your company. When a company grows, it will not outgrow JobView; there are more powerful editions available for larger companies, even for those doing hundreds of millions in revenue. With JobView, contractors can track costs associated with all phases of all jobs.
"We have supported the construction industry for over 30 years, pioneering what we do. When we see tough times like we have now, we step up to help. Right now, it is critical that contractors have a tool for monitoring and controlling costs, and that is what we are offering," said Arnold S. Grundvig, President and CEO of A-Systems.
He added, "A-Systems is definitely a maverick in the software business. We compete with the biggest software companies in the business by addressing the unique needs of the construction industry, not by seeing how much money we can make off them. We are always looking for ways we can help--especially during challenging times."
When asked about the loss of revenue by giving away construction software, Grundvig said, "Sometimes you have to do what needs to be done. Once again, A-Systems will show our competitors how it's done! We'll even include free multimedia training with the software."
About A-Systems
Founded in 1978, A-Systems Corporation ("A-Systems") was the first company to develop job cost accounting software for the PC, pioneering processes that have since become industry standards. Independently owned, A-Systems successfully competes with much larger companies by providing 5-Star rated software that is robust, easy to use, and priced affordably. Unlike its competitors, A-Systems is 100% American, from ownership to employees. Everyone at A-Systems, including the development and technical support teams are located at the company's headquarters in Salt Lake City, Utah.
To obtain a free copy of The Small Builder Advantage Edition of A-Systems JobView, call A-Systems toll-free at 1-800-365-6790 or visit the company's website at http://www.A-Systems.net.
###