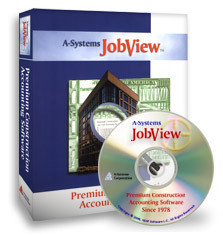 Salt Lake City, UT (PRWEB) December 16, 2008
A-Systems Corporation is offering the Small Builder Edition of its 5-Star rated construction management software for free. A-Systems cannot just stand by and do nothing while so many contractors are suffering through the current economic downturn.
Arnold S. Grundvig, President and CEO of A-Systems explained, "Every day, the news confirms that the US economy is in trouble and that the hardest hit industry is construction. Yet, we don't see headlines announcing a bailout for the largest industry in the US, an industry that is far more important than the car business! The harsh reality is that when revenues decline, contractors must cut overhead and control job costs if they are to survive. Unfortunately, many contractors still use 'generic accounting' software, meant for other industries, but certainly not for contractors. Generic programs do not have the sophistication to do job costing, the unique type of accounting needed by contractors. To address that need, we are giving away free copies of A-Systems JobView® because our software was designed to do exactly what contractors need, i.e. monitor actual costs and compare them to what was estimated for every phase of every job, day by day. All we ask is that they 'trade-in' their generic software and we'll give them real job costing software. We have supported the construction industry for over 30 years and we are always looking for ways to make a difference. These difficult times have given us the opportunity to help in a different way," Arnold added.
When challenged about revenue lost by giving away construction management software, Arnold said, "It's not right that builders should pay the price for the mistakes made by the financial industry. The construction industry has always been essential to our economy. If there is something we can do, there is a moral imperative that we must do it. No, we can't undo what the financial industry did, but we can give away free software and we'll even include over 60 sessions of multimedia training--also at no charge. Yes, we'll lose a little money on the deal, but life has a way of paying back."
About A-Systems:
Founded in 1978, A-Systems Corporation ("A-Systems") was the first company to develop job cost accounting software for the PC, pioneering techniques that have since become industry standards. A-Systems is a fiercely independent, privately owned company that believes in the fire of the entrepreneurial spirit. Unlike many software companies, the whole Technical Support team, is located in the US and they answer questions instead of reading scripts.
To obtain a free copy of The Small Builder Advantage Edition of A-Systems JobView, call A-Systems toll-free at 1-800-365-6790 or visit A-Systems.Net.
###