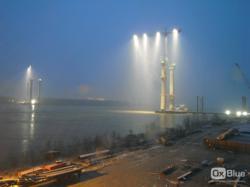 "What attracted me to this photo was the way the light hit the snow and brightened up the scene. It barely snows here in Louisiana. It was a very rare sight."
Carlos Onufruik

Atlanta, GA (Vocus/PRWEB) March 10, 2011
OxBlue, a leading construction web cam provider, announced today that a unique photo captured by one of the company's high-resolution construction web cam was selected for Engineering News-Record's 2010 Images of the Year in Construction contest.
The photo was submitted by Carlos Onufruik, cost engineer and scheduler at the Flatiron Construction Corporation in New Roads, LA. Onufruik spotted this photo last February among the numerous images captured daily by an OxBlue jobsite camera. A light snow was falling between the rising towers of the John James Audubon Bridge in St. Francisville, LA, which is the longest cable-stayed bridge in North America. The light mist surrounding the towers created a ghostly affect more reminiscent of London than Louisiana.
ENR is a leading construction industry publication. It holds this yearly photo contest where the best of the best from hundreds of photos are chosen by a panel of judges from ENR, other McGraw-Hill publications and guests.
OxBlue is a leading construction-camera service provider; supplying owners and contractors with the hardware, connectivity and expertise to enable anywhere-anytime access to their jobsite through high-resolution construction webcam images. OxBlue services numerous Fortune 500 companies, including over 100 of ENR's Top 400 Contractors.
Founded in 2001 by construction technology professionals, the company remains focused on its core goal: to deliver rugged, reliable and easy-to-use construction camera services that help clients better communicate their project status and document the entire project.
For more information, visit oxblue.com
# # #