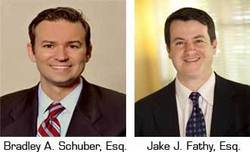 Let us help you protect your home.
Region (PRWEB) May 20, 2010
Clayton M. Anderson, Senior Partner of the law firm of Anderson & Kriger, is pleased to announce two new associate attorneys have joined the firm. Bradley A. Schuber (San Diego Office) and Jake J. Fathy (Sacramento Office) will be assisting homeowners of single-family residences or condominium conversions whose homes suffer from construction defects.
Bradley A. Schuber, Esquire
San Diego Office
Brad received his Juris Doctorate from the New York Law School, and B.B.A. from Pace University, graduating with honors from both universities.
One of Brad's most notable contributions to the team stems from the fact that he comes from a family of builders and tradesmen. He has spent a good portion of his career working for his family's construction company. As a result, he has extensive knowledge of the construction process and methodology. His hands-on experience in the field makes him an invaluable asset to the team.
In addition, over the last ten years, Brad has been actively involved in the San Diego Construction Industry. He previously served as President for the San Diego Chapter of the National Association of the Remodeling Industry (NARI), Secretary for the NARI California Coalition, and National NARI Chapter Representative. Brad received his OSHA/CAL-OSHA Compliance Certification in 2004.
As an Associate Attorney in the San Diego office of Anderson & Kriger, Brad handles complex civil litigation for construction defect related matters. He will also be handling condominium conversion cases in the San Diego area.
Jake J. Fathy, Esquire
Sacramento Office
Jake received his Juris Doctorate from the University of Pacific McGeorge School of Law in Sacramento, California. He received his Bachelor of Arts from the University of the Pacific in Santa Cruz, California.
As an associate attorney in Anderson & Kriger's Sacramento office, Jake will primarily focus on construction defect and real estate transaction issues. Jake joined the Anderson & Kriger team after graduating from the University of Pacific, McGeorge School of Law. While at McGeorge, he interned for Legal Services of Northern California, as well as the Sacramento and Yolo County Public Defender offices and was also active with the volunteer mentor programs, the Public Legal Services Society, and the American Constitutional Society.
Being a Sacramento native, Jake has long been involved in Sacramento area housing and development issues, especially affordable housing. He has volunteered for numerous nonprofits such as Loaves and Fishes, Women's Empowerment, and many other local organizations.
Dedicated to Helping California Homeowners Get Fair Compensation from the California Legal System for the Problems Affecting Their Homes.
Anderson & Kriger has its main office in San Diego and, in addition to Sacramento, operates offices in Orange County, Riverside, and Antelope Valley. Because the firm practices only in California, Clayton Anderson believes its plaintiff clients benefit from the firm's greater knowledge of developers and insurance companies doing business in the state, as well as state laws.
###