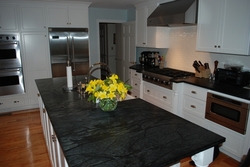 With the versatile design options and low maintenance material, soapstone is steadily growing in popularity among interior designers, builders, architects, remodelers, home owners and countertop fabricators
Atlanta (Vocus) February 27, 2010
Construction Resources, Inc., Atlanta's leading supplier of kitchen and bath products for homeowners and builders, announces the Artisan Stone Collection, a new line of kitchen countertops from the Artisan Group™, an independent organization of North America's premier countertop fabricators.
The new collection is the first and only natural stone countertop with a residential limited lifetime warranty. It is available in Georgia exclusively through Construction Resources' Atlanta Kitchen, Inc.
To meet buyer demands, the organization recently added the five new granite and marble colors to the Artisan Stone Collection as well as a new line of Saratoga Soapstone countertops.
"Saratoga Soapstone is available in three colors: Vineyard Green, Saratoga Black and Stillwater Gray," said Mitch Hires, president of Construction Resources, Inc. "Quarried like granite, but with a velvety smooth texture, soapstone is a heavy, mineral talc composition that can endure temperatures up to 600 degrees. With the versatile design options and low maintenance material, soapstone is steadily growing in popularity among interior designers, builders, architects, remodelers, home owners and countertop fabricators."
The Artisan Stone Collection now includes five marble colors: Calacatta Gold, White Carrara, Breccia Sarda, Dark Emperador and Crema Marfil. The new granite exotic colors include: Juparana Persa, Golden Crystal and Bianco Antico, while the new granite classic colors include Arctic Pearl and Crema Terra.
Construction Resources has showrooms conveniently located in Decatur, Alpharetta and Lake Oconee. For more information about Construction Resources, call 404-419-1259 or visit http://www.constructionresourcesusa.com. To receive updates, friend Construction Resources on Facebook at http://www.facebook.com/constructionresources or follow on twitter at KitchenBath.
About Artisan Group: Artisan Group™ is the premier network of stone fabricators in North America. Its extensive network allows the organization to offer the world's best granite from the best sources around the globe.
Utilizing the most technically advanced, automated shops in the industry, highly skilled craftsmen ensure that each and every installation meets exacting standards. In fact, all Artisan Group members have either achieved Marble Institute of America Accreditation, or have begun the process, making it the first group of granite fabricators in the world to be working towards this distinction. From classic to exotic, Artisan Group offers the most extensive array of stone choices in the industry, and is dedicated to the highest level of customer service. For more information or to request a quote, visit http://www.artisan-counters.com.
About Construction Resources: Construction Resources, Inc. is a 40-year-old company that provides residential and commercial builders/remodelers, as well as homeowners with a one-stop shop for their kitchen and bath needs. The staff at Construction Resources, Inc. has the ability to provide products from several sister companies including Atlanta Marble Mfg., Atlanta Kitchen, Inc., Atlanta Glass & Mirror, Inc. and Atlanta Garage Doors & Fireplaces, LLC. By offering a diverse selection, Construction Resources, Inc. allows customers to simplify their ordering, scheduling and vendor process by dealing with just one salesperson and company rather than multiple salespersons and companies. Construction Resources, Inc. has three showroom locations throughout the surrounding Atlanta area including Alpharetta, Decatur and Lake Oconee. For more information on Construction Resources, Inc., call 404-419-1259 or visit http://www.constructionresourcesusa.com.
# # #