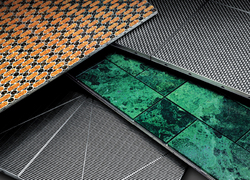 Muncy, PA (PRWEB) September 2, 2009
FloorometryTM from entrance flooring experts Construction Specialties, Inc. was originally showcased in April at the American Institute of Architects Convention in San Francisco. Officially launching in September, this revolutionary modular entrance flooring system installs like a tile and enables unprecedented design freedom. It also features the performance characteristics that high traffic entranceways demand such as slip resistance, capture of dirt and moisture, heavy rolling load capacity, clean-out capability and USGBC LEED credit contributions.
Floorometry is the culmination of careful market research and product development. Our research suggests that designers and facility managers want a wider variety of material options, easier installation, more convenient maintenance and modularity in entrance flooring systems. They are also seeking a departure from the linear look that still dominates the market 43 years after C/S launched the ever popular Pedigrid® and Pedimat® entrance flooring products.
C/S Floorometry categorically delivers on the wishes of these professionals. The system's 18"x18" modules are constructed of functional layers with common bases and strikingly different surface options. The system installs like a conventional tile with one difference -- the top surface is easily detached from the base making maintenance easy. With nearly limitless design freedom Floorometry gives architects the tools they need to create a stunning first impression, all while ensuring uncompromised performance.
Floorometry's four basic configurations are listed below. These are just a starting point as the options are nearly limitless when considering material selection, custom layouts, combinations and orientations.
101 - A stainless steel grid with many custom-inlayed geometric possibilities
201 - A base that accepts architectural mesh and weave inserts
301 - A precision-cut mosaic that accepts a multitude of thin flooring surfaces
401 - A structural pan that accepts hard surface flooring materials such as stone and tile as well as carpet
Choices like these represent design freedom like nothing that is currently available in today's market. C/S is looking forward to seeing what new combinations the design community will invent -- it's a product line limited only by their imagination. We've always been in the business of first impressions -- now we're re-setting the bar and changing the rules of entrance flooring.
To learn more visit our website or call us at (800)233-8493.
###