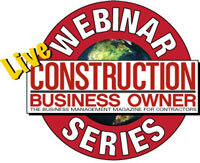 Top Down Metrics for Construction Business Owners
Birmingham, AL (PRWEB) May 21, 2010
Viewpoint Construction Software is pleased to sponsor the Webinar, "Top Down Metrics for Construction Business Owners," presented by Construction Business Owner, the business management resource for contractors. Attendees can register for the free Webinar at http://www.constructionbusinessowner.com.
In a competitive environment with an unbalanced economy, there is no question that the ability to forecast and measure results can give construction companies a needed edge. A construction project that's forecasted based on well-documented data provides contractors with the information necessary to deliver a better customer experience and assures maximum profitability. Using the right construction software can provide just the competitive edge contractors need to differentiate themselves in a tough market.
In this Webinar, contractors will learn how a contemporary construction software technology can help manage the complex needs of the construction industry. Specific topics covered include a review of cost and revenue forecasting, related Work in Progress reporting and dashboard views of Key Performance Indicators (KPI's) for top down metrics that benefit any construction firm. Brent Kuenzi of Viewpoint Construction Software presents a useful how-to for construction business owners seeking to improve their businesses with the use of construction software.
Owning a construction business involves a great deal of work, and the Construction Business Owner website and magazine provides the practical and easily applicable basic construction company management information that business owners need to be successful. This webinar is a part of Construction Business Owner's continuing efforts to arm construction company owners with useful management tips and advice.
About the Speaker:
As a long tenured leader in the organization, Brent Kuenzi has been an integral part of Viewpoint Construction Software's leadership in the construction industry. He has helped Viewpoint become the Heavy Highway market leader through his leadership and deep knowledge of the construction industry. After graduating from Oregon State University with a degree in business administration and a minor in engineering in 1980, Kuenzi worked for a local construction company as a division manager before joining forces with Viewpoint Construction Software in 1984.
About Construction Business Owner:
As the leading construction business management resource for contractors and the building industry, Construction Business Owner, offers articles from industry experts on some of the following subjects: construction software, construction accounting, marketing a construction company, green building, construction safety, construction law, workforce solutions, construction insurance, risk management, construction regulations, jobsite security, and equipment purchase and management for contractors.
# # #