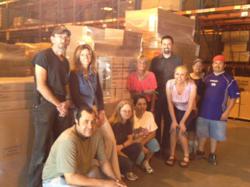 Constructive Playthings has been able to offer rapid re-supply of early childhood school furniture, toys, and supplies due to our close proximity to the disaster areas and close relationship with our logistics partners
Grandview, MO (PRWEB) June 12, 2013
Constructive Playthings - U.S. Toy Company/Constructive Playthings recently received a call from Canadian Valley Technical Center saying that their on-campus daycare center was severely damaged by the latest round of tornadoes in Oklahoma. Canadian Valley needed new educational furniture, supplies, and toys sent to their campus the next day.
Constructive Playthings team members, along with other corporate partners, worked to pull together the large re-supply order and arranged for a direct shipment to the Canadian Valley Technical Center preschool. Constructive Playthings was the only educational toy and furniture supplier to meet the requested delivery timeframe. This first shipment to the damaged preschool met the most immediate needs of the preschool. Future shipments are planned next week to complete the rebuilding of the school.
"We are extremely proud of our U.S. Toy Company/Constructive Playthings team members that were able to come together to accomplish the goal of helping our friends at the Canadian Valley Technical Center rebuild their preschool," stated Jonathan Freiden, co-CEO of U.S. Toy Company/Constructive Playthings. Furthermore, according to Freiden, "Constructive Playthings has been able to offer rapid re-supply of early childhood school furniture, toys, and supplies due to our close proximity to the disaster areas and close relationship with our logistics partners."
To learn more about Constructive Playthings and our disaster recovery work, please visit the Constructive Playthings website.
About Constructive Playthings
Constructive Playthings has 60 years of experience offering the finest quality early childhood equipment, teaching aids, and supplies. Constructive Playthings is the early childhood division of U.S. Toy Company and brings to life the vision of creating a quality experience in early education by providing toys and teaching resources ideal for preschools, churches, daycares, and other early childhood environments.
Beginning in a Kansas City, Missouri apartment in 1953 by preschool teacher-turned-entrepreneur Frances Wang-Gershon, Constructive Playthings is a third generation family owned and operated business offering numerous unique products created exclusively for our customers and the customers of our sister companies U.S. Toy and CP Toys.