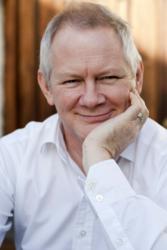 I am working in a more informal and intimate way with smaller organisations, offering the benefit of my personal experience across branding, marketing, leadership development, innovation, problem solving and business transformation
(PRWEB UK) 22 August 2012
Branding expert Simon Middleton, author of Build A Brand In 30 Days, who is also head of market-leading musical instrument retail brand Banjos Direct, is offering personal consulting advice to small business and organisations.
The writer and entrepreneur, who is author of Build A Brand In 30 Days, What You Need To Know About Marketing, and new book Brand New You, previously ran a high profile independent branding consultancy called Brand Strategy Guru.
Following the success of his books and of his online retail brand creation Banjos Direct, Middleton is now consulting again, offering small business consultancy. The approach this time will be more accessible and beneficial for small and medium businesses as well as with charities, according to Middleton. He calls his approach 'intimate consulting'.
"The Brand Strategy Guru consultancy had a great deal of experience, consulting with large organisations, including international brands like Etisalat, British Airways and Aviva, as well as with large charities like World Vision," said Middleton.
"But now I am working in a more informal and intimate way with smaller organisations, offering the benefit of my personal experience across branding, marketing, leadership development, innovation, problem solving and business transformation," Middleton added.
The author and entrepreneur says that he can help make dramatic positive change in business and organisations in any sector through the application of sound principles learned over two decades in branding and marketing.
"What's more, unlike many consulting firms, I've actually had the experience of creating a retail brand from scratch and taking it to the top of its sector in less than a year. I know what works and what doesn't, and right now in challenging times small business owners and people running charities for example just need really good advice that they can act on to get results," Middleton said.
Middleton can be approached for a no obligation conversation through his website http://www.simonmiddleton.com
Further Information:
Simon Middleton is one of the UK's leading experts on brands and branding. His consultancy firm has advised organisations and individuals all over the world and Simon has appeared on BBC Newsnight, BBC Breakfast, Bloomberg TV, Sky and CNN to discuss brand stories.
He is also the author of popular business books 'Build a Brand in 30 Days' and 'What You Need to Know About Marketing', and personal transformation book 'Brand New You. He is also a retail entrepreneur and founder of market leading folk instrument retailer Banjos Direct.
Note to editors: Simon is available for interview and expert comment and all Middleton's books are available for extract.
For further information please contact Simon Middleton on 07890 260312 or email simon(at)simonmiddleton(dot)com