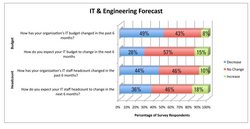 The image portrayed today is one of extreme economic hardship, but the reality is that many businesses and industries are stabilizing - an increasing number of businesses actually expect some growth
Salt Lake City, UT (Vocus) July 2, 2009
ConsultNet, a leading technology and engineering staffing provider, announced today the release of the 2009 Technology Staffing Outlook, which includes a survey of Hiring Managers for IT- and engineering-related workers in four states - California, Colorado, Texas and Utah. The report reveals that despite the economic recession, Western companies are expecting stabilizing and increasing IT and Engineering department headcounts and budgets in the second half of 2009. The 2009 ConsultNet Technology Staffing Outlook is available for free by visiting http://www.consultnet.com
Findings from the 2009 Technology Staffing Outlook include:

72 percent of the companies surveyed expect a stable or increased IT budget in the next 6 months, up significantly from 51 percent in the past 6 months.
46 percent of survey respondents expect their IT and Engineering headcount to remain stable over the next six months, and 18 percent expect an increase.
"The good news for IT & engineering industries in the West is that we're seeing a positive shift of about 10 percent in budget and headcount outlook as compared to the previous six months. ConsultNet is experiencing a growing number of orders for technology professionals, which shows there is still a strong demand for experienced, talented IT pros," said Spencer Shaffer, president of ConsultNet. "With more qualified candidates available, hiring managers with increasing or stable budgets will reap many rewards during the next six months."
In addition to shedding light on IT and engineering staffing needs with localized statistics in California, Colorado, Texas and Utah, the ConsultNet report includes information to help workers align their skills with upcoming IT trends, and explains how a supplemental workforce can help companies keep projects moving during an economic slowdown.
"The image portrayed today is one of extreme economic hardship, but the reality is that many businesses and industries are stabilizing - an increasing number of businesses actually expect some growth," said Shaffer.
For more information about ConsultNet and to download the ConsultNet 2009 Technology Staffing Outlook, visit http://www.consultnet.com.
About ConsultNet
ConsultNet is an information technology and engineering staffing services firm specializing in temporary, contract-to-hire, and direct hire placements. With a core focus on Information Technology, Business Applications, Telecommunications, and Engineering staffing, ConsultNet has become one of the most reputable staffing augmentation providers to Fortune 1000 and mid-sized clients nationwide.
Contact:
Brad Rutledge
Rutledge Consulting Group
801-824-6218
Allison Yrungaray
Rutledge Consulting Group
626-841-1640
# # #