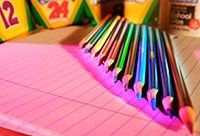 It's great to know our school supply donations are going directly into the hands of children in need within the Jacksonville community
Jacksonville, Florida (PRWEB) August 01, 2013
Jacksonville, Fla. August – Consumer Attorney Services is currently collecting school supplies including notebooks, No. 2 pencils, erasers, crayons and more to fill up 20 backpacks to donate to the Hubbard House's back-to-school drive in August. Consumer Attorney Services sponsored the Hubbard House's charitable program to help the victims and children of domestic violence prepare for the new school year.
The Hubbard House in Jacksonville is a nonprofit organization established in 1976 providing comprehensive domestic violence help for the victims of domestic violence and their children.
According to the Hubbard House website, "Our mission is Every Relationship Violence-Free. We work to ensure safety for victims and their children, empowerment of victims, and social change through education and advocacy."
Consumer Attorney Services proudly announced its support of the Hubbard House's back-to-school drive last Thursday and donations soon trickled in on Friday, July 26. Three drop off stations were setup at Consumer Attorney Services' office with two backpacks to fill in the accounting department, two backpacks to fill in the intake department and two backpacks to fill in the legal department.
"We are so excited to lend our support to another one of Hubbard House's charitable initiatives. It's great to know our school supply donations are going directly into the hands of children in need within the Jacksonville community," said Angela Curtis, director of human resources and organizational development at Consumer Attorney Services.
In total, twenty backpacks (ten for boys and ten for girls) will be filled with school supplies and donations will be collected until August 15. On August 16, Angela Curtis from Consumer Attorney Services will present the donations to office manager April Griffin with the Hubbard House.
Consumer Attorney Services recognizes the value of organizations like the Hubbard House who consistently focus on strengthening Jacksonville communities.Consumer Attorney Services lent its support to the Hubbard House previously by donating 150 pounds of food and two large bins filled with toys to the Hubbard House Food and Toy Drive in December, 2012.
Consumer Attorney Services hopes its donation of school supplies can help to ensure more students are well prepared for the new 2013 school year. Consumer Attorney Services is a full service consumer advocacy law firm headquartered in Jacksonville, Florida, and offers legal services including but not limited to: foreclosure defense, debt settlement, and bankruptcy law.