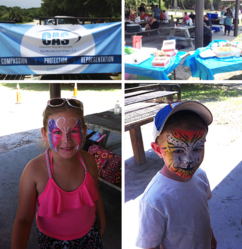 There was great food and a lot of it.
Jacksonville, Florida (PRWEB) May 23, 2013
Consumer Attorney Services (CAS) hosted a picnic at Hanna Park on May 18 in honor of its first annual employee and family appreciation day. Consumer Attorney Services sponsored catering and fun activities to show its enormous appreciation for all of its employees' hard work and dedication.
The fun-filled day included magic shows, face painting, a photo booth, team sports, a delicious BBQ, and a relaxed atmosphere. Approximately 100 people including employees, friends and family came out to celebrate between 11 a.m. and 4 p.m.
"There was great food and a lot of it," said Dennis Pass, operations manager at Consumer Attorney Services.
Consumer Attorney Services employed the brother of employee Holly Carrol to ensure picnic goers would be well fed for the event. Carrol's brother, Mike Witley, smoked more than 200 pounds of chicken and pork sourced from a local farm in Nassau County.
"He used an award-winning family recipe and selflessly cooked all night with a friend of the family, Chad Conner, on Friday, so that we could have an enjoyable picnic with our friends and families Saturday," said Carrol.
Amongst the many plates piled high with delectable BBQ, children of CAS employees ran about with their faces painted of tigers, butterflies, mermaids and reptiles. Two pavilions were setup around a scenic lake, one reserved for the food and the other for entertainment.
A magic show and photo booth concluded the celebrations. Parents and kids gathered around to watch magic tricks involving a live dove and rabbit. The show ended on a high note with applause heard coming from all around.
Consumer Attorney Services is proud to have the opportunity to demonstrate its tremendous appreciation for all of the hard work CAS employees do on a regular basis. Consumer Attorney Services is a full service consumer advocacy law firm headquartered in Jacksonville, Florida, helping families with but not limited to foreclosure defense, debt settlement and bankruptcy.