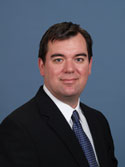 Jacksonville, Florida (PRWEB) May 08, 2013
Jacksonville, Fla. April 2013 – Consumer Attorney Services promoted Robert Coker Jr. to Managing Attorney in the month of April. Consumer Attorney Services recognized Coker Jr. for his three years of non-legal managerial experience, commitment to customer service, and educational background.
Coker Jr. is a Florida native and was born and raised in Bradenton, Florida. He stayed true to his Florida roots by attending Florida State University. He graduated Florida State University in 2000 with a Bachelor of Arts in political science and a minor in history.
Coker Jr. pursued higher education upon graduation by enrolling in the master's program at Florida State University. He graduated in 2002 and received a master's degree in applied American politics and policy.
Coker Jr. decided to enter the workforce after receiving his master's degree. He worked for the Florida Restaurant Association in their Government Relations department where he developed a strong dedication to customer service. He also previously worked as a restaurant manager for three years.
In 2005, Coker Jr. left the Florida Restaurant Association to attend law school at Regent University School of Law in Virginia Beach, Virginia. There, he earned a Juris Doctor degree and was subsequently admitted to the Florida Bar in 2008.
While in law school, Coker Jr. became uniquely aware of the stress and strain forecloses can cause after seeing his parents lose their home to foreclosure. This unfortunate event sparked an interest in helping homeowners to avoid foreclosure. He moved to south Florida and began working for a foreclosure defense law firm before moving to Jacksonville, Florida to join the national foreclosure defense team at Consumer Attorney Services.
Consumer Attorney Services is pleased to promote Coker Jr. to the role of Managing Attorney and hopes his ongoing efforts will continue to help more homeowners in Florida and around the nation to avoid foreclosure. Consumer Attorney Services is a full service consumer advocacy law firm headquartered in Jacksonville, Florida, and offers legal services including but not limited to: foreclosure defense, debt settlement, and bankruptcy law.