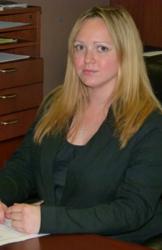 Jacksonville, Florida (PRWEB) May 21, 2013
Consumer Attorney Services appointed Tarah Seabre as supervising attorney in May to help improve the working efficiency of its national foreclosure defense team. Having worked with residential foreclosures for over two years, Seabre represented just what Consumer Attorney Services was looking for in a supervising attorney.
Seabre attended law school the University of Miami School of Law and received her Juris Doctorate in 2008. Prior to then, she attended Dowling College in her home state of New York and graduated with a Bachelor of Arts in history.
During law school, Seabre worked as an intern at the State Attorney's office. Before being admitted to the Florida Bar, she worked in third party debt collection and consumer law. Upon becoming a member of the Florida Bar, she returned to New York where she became a member of the New York Bar as well.
While in New York, she pursued several different facets within the legal sector. In Manhattan, she worked in commercial, contract, business and estate planning. In New York City, she worked in residential and commercial foreclosure and eviction. She also worked as an in-house counsel for a process serving agency.
Because of Seabre's experience working with foreclosure law for over two years, she became intimately familiar with lender practices and policies. She negotiated hundreds of loan modifications and other loss mitigation plans in settlement conferences and judicial hearings throughout New York City and beyond.
Consumer Attorney Services charged Seabre with improving the efficiency of its national foreclosure defense team. As supervising attorney, Seabre helps run multiple legal teams who work in state specific areas.
Her foreclosure defense teams are comprised of supporting attorneys, paralegals, loss mitigation consultants, client advocates and resolution specialists. Together, they focus on helping distressed homeowners achieve the best foreclosure resolution available within the timeliest manner possible.
Consumer Attorney Services hopes Seabre's ongoing efforts as supervising attorney continue to improve its national foreclosure defense team. Consumer Attorney Services is a full service consumer advocacy law firm headquartered in Jacksonville, Florida, helping families with but not limited to foreclosure defense, debt settlement and bankruptcy.