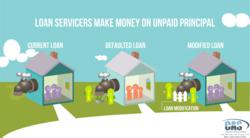 Jacksonvillle, Florida (PRWEB) June 12, 2013
Consumer Attorney Services released an easy to understand infographic in June visually depicting how loan servicers make money on unpaid principal to help educate homeowners and future homeowners. Consumer Attorney Services plans to release several more foreclosure-related infographics in the near future as part of a consumer advocacy campaign focused on empowering individuals through education across the United States.
The infographic is headlined with the text, "Loan Servicers Make Money on Unpaid Principal" and shows three houses with mortgage loans in three different statuses. The house on the left has a current loan and is not losing any money. The second house has a defaulted loan and the loan servicers are collecting money from the house. The third house has a loan modification and the loan servicers are unable to collect money from the house.
Consumer Attorney Services tasked a graphic designer with this challenge: create an infographic about how loan servicers making money on unpaid principal that can be immediately and easily understood by individuals in many walks of life. People must also be able to quickly share the infographic across many mediums to enhance its potential visibility. Consumer Attorney Services is pleased with the result.
By educating individuals across the United States on topics such as foreclosure defense, loan modifications, predatory lending and more, Consumer Attorney Services hopes to strengthen many homeowners' chance at avoiding foreclosure. Education can be an essential tool when dealing with complex foreclosure proceedings.
Other topics Consumer Attorney Services plans to create infographics for include how to stop a foreclosure sale, when to file bankruptcy and how to recover after foreclosure. As a consumer advocacy law firm across the United States, it is Consumer Attorney Services' goal to protect the rights of consumers and promote long-term, sustainable economic growth.
Consumer Attorney Services is a full service consumer advocacy law firm headquartered in Jacksonville, Florida, helping families with but not limited to foreclosure defense, debt settlement, and bankruptcy.