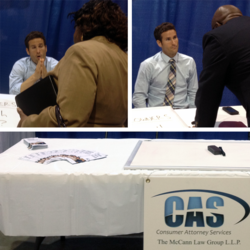 The job fair was filled with eager individuals looking for work after the economic crisis
Jacksonville, Florida (PRWEB) June 13, 2013
Consumer Attorney Services supported the 2013 Job and Resource Fair in Jacksonville by offering local community residents access to probono legal counsel and employment opportunities in June. Recruiters from Consumer Attorney Services scouted for talented attorneys and paralegals while two licensed attorneys from Consumer Attorney Services provided more than four hours of free consultations for legal advice.
Consumer Attorney Services saw the 2013 Job and Resource Fair as a great opportunity to proactively engage and help distressed homeowners, or identify individuals with legal backgrounds that are searching for employment in the Jacksonville area.
"The job fair was filled with eager individuals looking for work after the economic crisis," said attorney Marlowe Fox with Consumer Attorney Services. "Consumer Attorney Services was there to help educate Florida homeowners about their rights with respect to questions regarding their mortgages, whether they were in foreclosure or in the immediate threat of delinquency."
Fox provided the first two hours of probono legal advice during the morning session. He was eager to increase consumer rights awareness among Jacksonville homeowners, especially with regards to homeowners under the threat of foreclosure.
Attorney Kelly Rodenas provided the second two hours of probono legal advice during the afternoon session. She focused on discussing possible foreclosure defense options to homeowners who were experiencing financial difficulty and having difficulty in maintaining their mortgages.
In total, approximately ten distressed homeowners found free legal advice from the attorneys at Consumer Attorney Services. Consumer Attorney Services hopes its contribution of legal resources and guidance helps to positively affect the Jacksonville community and economy.
Consumer Attorney Services is currently reviewing several resumes received from talented individuals at the job fair for employment to support its national foreclosure defense team. Consumer Attorney Services is a full service consumer advocacy law firm headquartered in Jacksonville, Florida, helping families with but not limited to foreclosure defense, debt settlement, and bankruptcy.