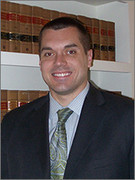 Jacksonville, Florida (PRWEB) May 14, 2013
Consumer Attorney Services helps more Michigan homeowners find foreclosure resolutions after adding attorney Philip Bubb to their national foreclosure defense team in May. Having tried cases as first chair trial counsel in bench and jury trials and graduating law school with honors, Bubb represented a great candidate for selection to join Consumer Attorney Services' team.
Bubb owns a private practice, Bubb Legal Services, LLC, and his primary practice areas include foreclosure defense, debt settlement, commercial litigation, construction litigation and real estate litigation.
Before opening his own practice, Bubb worked in several different areas within the legal sector. He worked as a general counsel to Iowa Distilling Company, a litigator for Carlton Fields, PA and a clerk for the Office of the City Attorney of Ann Arbor.
Bubb received his Juris Doctorate and graduated with honors from the University of Michigan Law School in 2003. While in law school, he enjoyed participating in the moot court competition and stayed involved with the Federalist Society for Law and Public Policy Studies. He also stayed physically active in law school by joining the University of Michigan boxing team.
Prior to law school, Bubb attended Luther College where he also graduated with honors. He received a Bachelor's of Science in history and was captain of the men's swimming and diving team.
Bubb is a member of several professional organizations. He is an active member of the American Bar Association and the Georgia Bar Association.
Consumer Attorney Services plans to utilize Bubb's skillsets to help more Michigan homeowners avoid foreclosure. According to an April 2013 article on the MarketWatch website, Michigan was one of the hardest hit states with respect to foreclosure.
The MarketWatch article, titled: "Foreclosures rise in March: CoreLogic," described how, "Regionally, the housing market's recovery is mixed. Florida, California and Michigan had the highest number of completed foreclosures for the 12 months through March."
Consumer Attorney Services is a full service consumer advocacy law firm headquartered in Jacksonville, Florida, helping families with but not limited to foreclosure defense, debt settlement, and bankruptcy.