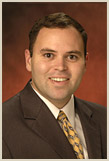 Jacksonville, FL (PRWEB) May 16, 2013
Frederick Petersen joined Consumer Attorney Services' national foreclosure defense team in May to help Buffalo, NY homeowners fight foreclosure. Petersen makes a great addition to the Consumer Attorney Services team, having provided bankruptcy and financial legal counsel to businesses like hospitals and restaurants and represented individuals in commercial litigation matters.
Petersen first got his feet wet in the legal sector by becoming a law clerk at Mesch, Clark and Rothschild in 1998 while attending law school. He would later become an associate of the firm in 1999 and eventually a shareholder of the firm in 2005. Petersen's practice areas include foreclosure defense, bankruptcy, business reorganization, real estate law, and debt settlement.
Prior to attending law school at the University of Arizona College of Law, Petersen received a Bachelor of Arts degree, magna cum laude, in history and political science from Gonzaga University in Washington.
Petersen received recognition in his legal career by being selected as the 2004 Bankruptcy Attorney of the Year by the Erie County Bar Association Lawyers Project (VLP). He was also recognized in 2006 for his community leadership initiatives as one of the "40 Under 40" by Tucson Business Edge.
Petersen enjoys sharing his legal knowledge by volunteering with several professional organizations. He often volunteers for the Pima County Bar Association's Volunteer Lawyers Program and served as the chairman of the Arizona State Bar Association's bankruptcy education program in 2004 and 2005.
Additionally, Petersen is past president and a former member of the board of directors of Handi-Dogs, an organization that trains service dogs. He also previously volunteered for the Tuscon Volunteer Center, the Human Society of Southern Arizona, and Lawyers for Literacy.
Consumer Attorney Services hopes Petersen's addition to their national foreclosure defense team will help more homeowners in Buffalo, NY find the foreclosure resolutions they desperately need. Consumer Attorney Services is a full service consumer advocacy law firm headquartered in Jacksonville, Florida, helping families with but not limited to foreclosure defense, debt settlement and bankruptcy.