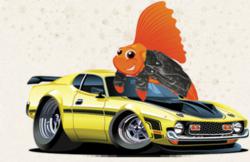 In this day and age, there are so many available tools at our disposal that it's almost impossible to not pay a bill if you really want to, even if you're forgetful or busy.
New York, NY (PRWEB) December 18, 2012
RoadFish.com men's lifestyle and finance magazine today issued their observations about the way consumer credit scores are calculated, as based on findings from a recent study performed by the Consumer Financial Protection Bureau.
Elizabeth Dwoskin of Business Week reported yesterday that the Consumer Financial Protection Bureau (CFPB) recently published a report entitled, "Key Dimensions and Processes in the U.S. Credit Reporting System". The report states that it is a review of how the nation's largest credit bureaus manage consumer data, and examined how Experian, Equifax, and TransUnion calculated consumer credit scores within the U.S. One of the interesting discoveries made by the CFPB during the course of their study was revealed by Dwoskin to by the fact that consumer obligations to credit-card companies actually carry with them more weight on credit reports than larger debts like home mortgages and student loans—despite fact that the latter are usually for much longer payment terms and for a lot more money. Thus the CFPB's report shows that all credit is not counted equally when tallying up a consumer credit score.
RoadFish.com pitched in to spread the word to consumers that hefty credit card debt may be damaging their credit scores more than they think. RoadFish.com's Senior staff writer urged readers, "This study only serves as further motivation to put 'digging out of debt' as a huge priority in the new year, and also to try to avoid adding to debt as much as possible during the holidays. We're so deep into the season that for many, debt might have already been accrued. But there's still time to make decisions that will make it easier, come January, to pay down debt and start working towards improving your credit score simultaneously. For those people who are thinking that their timely mortgage payments or 10-year student loans are going to carry their credit score, it may come as a surprise that that simply isn't the case if you're late on credit card payments, or using too much of your available credit."
The vice president of public relations for VantageScore Solutions, Jeff Richardson, commented about how late payments affect credit scores, and explained that a single late payment does count against a consumer a little bit more than being behind on one credit card payment. But he stated it does depend on the consumer's credit score to begin with, since a late credit card payment will drop a score that is 760 down by 70-90 points, which would be the same as if the consumer were behind on a car payment or home loan payment. However if the consumer's credit score was quite high, such as 900, the late mortgage payment would drop the score by 100-120 points as opposed to the 85-105 for a credit card. The problem comes when consumers own multiple credit cards, and are late for more than one payment, because each penalty counts against that report separately and the more cards a consumer owns, the more weight they carry. Richardson, is quoted in the Business Week article as saying, "Regardless of the type of account, multiple delinquencies are always more severe than a single delinquency. The impact from becoming delinquent on three bank card accounts would be similar to going delinquent on a mortgage, auto, and credit-card account simultaneously."
RoadFish.com encourages consumers to prioritize making timely payments on all credit lines. RoadFish.com's Senior staff writer is quoted as saying, "In this day and age, there are so many available tools at our disposal that it's almost impossible to not pay a bill if you really want to, even if you're forgetful or busy. For example, my bank offers online bill pay, where I can set up weekly or monthly payments for rent, utilities, anything I want. It's an automated payment that I don't even have to think about. Similarly, most credit card companies allow for automated online payments as well. You'd have to be nuts not to sign up to pay at least the minimum each month automatically! Other tools like financial app Mint.com will email you a couple days before a bill is due, to remind you to pay it. And for crying out loud, there are SmartPhones and tablets whose calendars can be set to remind you to do anything—like pay a bill. It's not that hard!"
RoadFish.com tells readers to look around for inspiration to see what works best for them, stating that some tools are well advertised, like Experian's classically funny free credit report commercials or their more recent Score Planner commercials. But RoadFish.com still encourages consumers to ask friends and family members for their favorite ways to budget, check credit, pay bills, and stay on financial track and copycat the most effective habits.
The above-mentioned Business Week article quotes CFPB Director, Richard Cordray, as saying that consumers should view the report findings as a "cause for caution, especially around this holiday season… [C]onsumers may take out a retail credit card in order to save 20 percent off their purchases on a given day. If they are not responsible with that one card, it could end up costing them a lot more down the line when they go to take out a mortgage and that credit card is a black mark on their credit report."
About RoadFish.com:
RoadFish.com is an online men's financial and lifestyle magazine, designed to inspire already motivated men towards achieving the next big goal in their lives. RoadFish.com regularly reports on topics such as online dating services, hot chicks, travel ideas, and more. RoadFish.com also writes about a great variety of financial topics, providing credit advice, budget tips, and most recently, advice about how to avoid holiday financial scams. RoadFish.com is owned and operated by Purpose Inc.