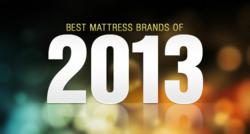 Tempe, AZ (PRWEB) March 13, 2013
Resources that provide unbiased assessments of retail products offer a useful and necessary tool for consumers who may not have the time or desire to research every aspect of purchase. Consumer Reports, a leading publication in the product review industry, just released their updated mattress buying guide and initial results of their comparison of 12 brand-name mattresses. Mattress review blog BestMattress-Brand.org analyzes these two publications in a recent article and also looks at purchasing tips for prospective buyers.
Titled "Consumer Reports' Best Mattress Brands of 2013," the blog delves into the individual mattress types, explaining each and offering the best mattress brands and options for each category.
The first type covered are the ubiquitous innerspring mattresses. These provide acceptable support and offer ease of movement, but potential issues include motion transfer and pain management. The highest and lowest performing brand in Consumer Reports comparison was Simmons, with leading brands like Sealy and Serta also receiving mention.
Memory foam mattresses remain the most popular specialty mattress type, lauded for pain relief, alignment support, and limiting motion transfer. Consumer Reports mentions potential issues with some brands like heat, difficulty moving and off-gassing. Their comparison mentions the Tempur-Simplicity and Novaform Serafina. BestMattress-Brand.org also introduces Amerisleep, which offers affordable memory foam mattresses in the same price range but with higher foam density and plant-based materials that sleep cooler and do not offgas.
Two other mattress types mentioned include air beds and gel mattresses. Air beds, made popular by Sleep Number, are praised by Consumer Reports for customizability, though it is noted consumers complain about price and noise with some models. The new entrant, gel mattresses, include other mattress types which incorporate gel and claim to offer cooler and more breathable beds. It is interesting to note that the Consumer Reports found other mattress types just breathable despite these claims.
To conclude the discussion, Best Mattress Brand summarizes buying tips offered by Consumer Reports like when to get a new bed, that price and names aren't indicative of quality, and the importance of understanding returns and warranties. While the blog largely agrees with the tips, they do argue that buying a mattress online may yield better results and that in home trials prove more important than a short showroom test.
Ultimately the article offers a broad introduction to the current mattress market likely to prove of interest to people looking for a new bed, especially consumers who have not bought a mattress in several years. The purchasing guidelines also offer valuable insights designed to help shoppers get better deals and beds they will be happy with in the long run.
BestMattress-Brand.org is a mattress review blog designed to provide information to mattress shoppers. With a mission to make bed shopping easier, editors provide unbiased assessments of manufacturer claims and customer satisfaction. The blog also features industry news and brand reviews based on first and third party research, and offers weekly newsletters for subscribers.