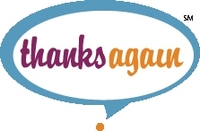 Bountiful Fruit is thrilled to partner with Thanks Again in order to provide our customers with an opportunity to earn rewards on everyday purchases. It's our way of saying
Atlanta, GA (PRWEB) August 21, 2009
Thanks Again® has expanded its merchant funded reward network into many new industry categories, providing turnkey loyalty and customer retention solutions for a wide variety of business owners.
Thanks Again operates a consumer loyalty program that enables local business owners to use airline miles and other popular rewards as an incentive to increase sales and profitability from their best customers. Thanks Again currently works with over 18,500 local businesses located in all 50 states and the top 100 metropolitan areas.
"Thanks Again specializes in giving consumers the ability to earn extra airline miles, cash back, and other 'Rewards Around Every Corner,' states Marc Ellis, CEO of Thanks Again.
During troubled economic times, merchants are especially interested in using customer rewards programs to retain customer loyalty. Thanks Again's registered card technology platform enables business owners to thank their most loyal customers and potentially attract new ones at no upfront cost and on a pay-for-performance basis.
Here's a listing of our newest partners:
BountifulFruit.com Online Gift/Fruit Retailer Washington State
Cold Stone Creamery Premium Ice Cream Retailer Dayton, OH
GreenEfficient LEED Certified Building Management Houston, TX
Metropolitan Cleaning Pros Carpet, Drapery & Upholstery Cleaning Los Angeles, CA
Oxxo Care Cleaners Green Dry Cleaner Aventura, FL
Oxxo Care Cleaners Green Dry Cleaner Washington, DC
Prestige Cleaners Green Dry Cleaner Scottsdale, AZ
Rugsies.com Residential/Commercial Carpet Cleaning Miami Beach, FL
The Lansburgh Property Management Washington, DC
(Horning Bros.)
The Queens Penny Saver Advertising Periodical Ozone Park, NY
Wards Cove Holdings, LLC General Stores Alaska
"Bountiful Fruit is thrilled to partner with Thanks Again in order to provide our customers with an opportunity to earn rewards on everyday purchases. It's our way of saying "thank you" to our customers for their loyal patronage," says Brian Vertrees, Customer Promotions Manager of BountifulFruit.com.
For information about becoming a participating merchant in Thanks Again's customer rewards program visit the company's website, http://www.ThanksAgain.com/Merchants ThanksAgain.com.
About Thanks Again, LLC:
Thanks Again is a merchant-funded reward network that allows large National Reward Programs to accelerate reward earning opportunities for millions of their members. The Thanks Again Rewarding Merchant℠ network is a consortium of 18,500 local businesses located in all 50 states and the top 100 metropolitan areas.
# # #