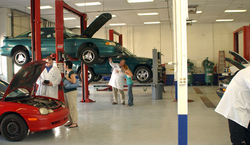 We level the playing field by giving consumers powerful information about their vehicles so they are in charge and protected and are able to make confident decisions throughout the automotive process
Mesa, Arizona (PRWEB) September 14, 2007
Vehicle Inspection Bureau vibaz.com is a pioneering concept, arming automotive consumers with valuable information designed to empower them throughout any aspect of the automotive process. Open now in Mesa, Arizona, the cutting-edge business offers customers a complete, unbiased 250+ point vehicle inspection conducted by certified, veteran technicians. The inspection results will allow consumers to make confident, well informed decisions about used vehicle purchases, avoid car service scams and unnecessary repairs by knowing in advance what's right and wrong with the vehicle before they visit the repair facility. For the same reason, full benefit from their factory or extended warranty will be realized. In addition, if one has a used vehicle for sale the information will allow them to add value, sell faster and for a fair price. VIB is the automotive consumer watchdog!
"We all know someone with a horror story about buying a used car or paying dearly for unnecessary repairs," said Pete Cahoon, VIB director. "VIB was created to protect the automotive consumer and help them save money and avoid stressful situations and automotive scams."
VIB offers prospective buyers and sellers a one stop shop for completing an auto transaction. Not only does VIB offer a detailed printed vehicle inspection report, the new facility also offers a full resource center, loaded with valuable automotive information, accessible in-store or on line, notary public services and with Carfax vehicle history reports, you have the whole story about any used vehicle. Seal the deal in VIB's neutral, in-store buyer/seller meeting lounge.
Arizona Attorney General Terry Goddard said "Auto Purchase and Repair were the #1 consumer scam in 2006." Consumers need ongoing protection so they can feel confident not just at the point of sale, but throughout the time they own their cars, especially when vehicles need service or repairs. VIB has them covered there too.
VIB does no vehicle repair or maintenance work, so our inspection results are nothing but the facts! The unbiased inspections are not only valuable to buyers and sellers of used vehicles, but also to those needing maintenance, repair or warranty work. Informing the consumer with exactly what's right and wrong with their vehicle before they go to the repair shop or dealer puts the consumer in charge. No more unnecessary repairs or scams and a lot less stress. The company even takes the sting out of the high cost of repairs by offering low-cost, high-coverage vehicle extended warranties. Ongoing FREE automotive informational clinics will help consumers deal with a variety of topics from how to choose a repair facility to buying or selling a used vehicle.
"We level the playing field by giving consumers powerful information about their vehicles so they are in charge and protected and are able to make confident decisions throughout the automotive process," Cahoon said.
Purchasing the VIB Inspection or VIB Warranty Inspection you will receive a tailored 250+ point printed inspection, full scan of computer systems, photos and road test for a mere $99.95. Add a Carfax and you have the VIB Plus Inspection at $119.95. We even have a limited roadworthiness exam for $19.95. Unbiased, 3rd party vehicle inspection information can easily help automotive consumers save thousands in unnecessary repairs and maintenance, steer clear of lemons, empower them when dealing with repair shops or dealers and any other potholes in the road during car ownership.
About Vehicle Inspection Bureau
Located on the southwest corner of Dobson and University in Mesa, Arizona, Vehicle Inspection Bureau is a true automotive consumer advocate. VIB offers objective third-party inspections, empowering the consumer when faced with buying, selling or service situations. Provides valuable information on the website including a resource center as well as inspection results, conducting free automotive informational clinics and having available our low priced guaranteed vehicle extended warranties[on like coverage]. Vehicle Inspection Bureau is dedicated to protecting the automotive consumer by leveling the playing field and providing the "peace on mind" they deserve!
###