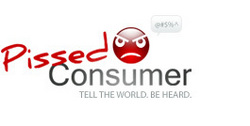 If a company has a five red star rating, it means that they're 'hot' on consumer complaints, or receiving a lot of them
New York, NY (Vocus) October 23, 2009
U.S. consumer advocacy and customer complaints website, PissedConsumer.com, helps visitors more easily identify high-complaint companies with its new star rating system. Unlike rating systems where individual visitors rate a company with one to five stars, this rating instead stems from the number of consumer complaints and comments on those complaints that a company has at PissedConsumer.com.
"If a company has a five red star rating, it means that they're 'hot' on consumer complaints, or receiving a lot of them," said Joanna Simpson of PissedConsumer.com. "The five star rating can happen if a company suddenly starts receiving more complaints on average than other companies -- indicating to consumers that there might be a customer service issue to keep an eye on before deciding to do business with the company."
The PissedConsumer.com star rating system depends on a proprietary statistical model that analyzes data related to consumer complaints and comments and then calculates a rating for the company. Consumers can view a company's rating near the upper right corner of the company's profile page on the site, which they can get to through a link at the top of individual consumer complaints.
"Consumers shouldn't have to guess if a problem with a company is a one-off event or part of a growing trend," said Simpson. "The new star rating system is designed to help them get a more accurate feel for a particular company, from customers' perspectives. They don't have to weed through each separate complaint just to see if they're recent anymore. If there's a trend towards an unusually high number of complaints, they can see that now directly from a company's profile. On the other hand, the star ratings and 'hot consumer complaints' also allow companies to keep a better eye on the consumer complaints coming in about them so management can identify potentially larger customer service or product issues that they need to address."
About PissedConsumer.com
PissedConsumer.com is a premier consumer advocacy group, featuring consumer reviews and complaints in a social networking environment. The company uses online tools to publicize reviews and complaints filed by consumers on the Internet. In addition, the site offers a set of free tools necessary to bring the dispute to a fast and successful resolution, including a consumer complaint letter generator and collection of consumer tips and advice in the site's consumer advocacy section.
For more information about PissedConsumer.com, please visit our website or contact Joanna Simpson at 262-674-6466.
# # #