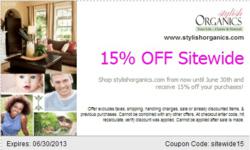 We see consumers interested in our organic, sustainable, and eco-friendly products, not only for personal health benefits, but also out of environmental concerns.
Stanton, NJ (PRWEB) June 18, 2013
Current environmental topics of concern associated with climate change; genetically modified foods; soil and ground water contamination; energy consumption; product induced health problems; and the like, clearly point to the increased awareness and involvement of consumers as a deciding force in the demand for chemical free, eco-friendly products. According to results reported in The Regeneration Consumer Study, "...65% of consumers surveyed say they feel a sense of responsibility to purchase products that are good for the environment and society." The study, encompassing over six thousand consumers in six major marketplaces including the US, provides evidence of shifting consumer actions in support of greener lifestyle solutions.
Stylish Organics advocates the findings in this study and feels these consumer behaviors are the direct cause for arising opportunities for manufacturers to produce greener products. Consumers appear to be actively participating in viable solutions not only to improve the quality of their life and guard their health, but also to protect the environment for future generations. "We see consumers interested in our organic, sustainable, and eco-friendly products, not only for personal health benefits, but also out of environmental concerns," states Lynn Lavanga, owner of stylishorganics.com. "But consumers are still guarded about the claims a product is making, its effect on the environment, and whether that product is as good, or, better than its conventionally manufactured counterpart."
According to the same study, 70% of those surveyed "… said they would purchase more products that are environmentally and socially responsible … if they didn't cost more". " Additional costs to establish an organic growing environment and to assure environmentally responsible manufacturing, results in slightly higher retail prices as opposed to non-organic or non-sustainable counterparts. Customers have to understand the value of buying organic and environmentally safe products even if the cost is slightly more," continued Ms. Lavanga. Jenn Reiter understands this value added cost and states, "Shopping for products at stylishorganics.com puts my mind at ease knowing they have researched to assure the organic, sustainable, or eco-friendly product is as claimed. They also do their best to keep pricing reasonable and provide the consumer with many opportunities to purchase at a discounted price".
With the increased awareness and concern consumers are displaying about their health and the current and future health of the environment, comes an increased force for manufacturers to find more sustainable product solutions. Stylish Organics has researched such manufacturers and provides a palette of environmentally friendly products giving the eco active consumer an easy to shop venue of green solutions. Through June they are offering a 15% discount on all products by using coupon code sitewide15 when checking out.
About Stylish Organics
Stylish Organics is an e-commerce boutique offering a collection of products selected for earth friendly properties from environmentally responsible manufacturers. The company's easy to shop, one-stop-shopping, venue enables those committed to green living to combine savvy styling with earth friendly thinking. Many of their products are made in the USA or are ethically sourced from organizations that globally support women. The boutique is based in Stanton, New Jersey and is available to consumers on-line with shipping provided to locations in the United States and Canada. They can be reached via their website, email - contactus(at)stylishorganics(dot)com or by calling 800.581.6417.