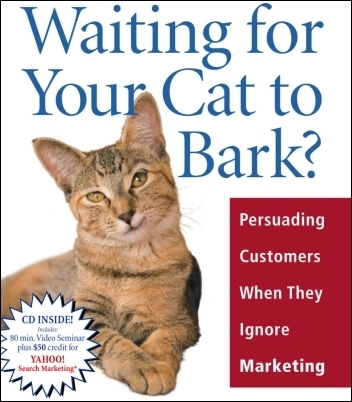 What goes on in the mind of the consumer?
Nashville, TN (PRWEB) July 18, 2006
Though no one can answer for sure how to predict consumer behavior, the New York Times and Wall Street Journal best-selling Eisenberg brothers reveal a new method of evaluating behavioral patterns of consumers. The authors, and inventors of Persuasion Architecture, use a method based on four primary temperaments as outlined in their new book "Waiting for Your Cat to Bark?"
Given the enormous range of human personality, and our broad range of emotions in constant fluctuation, it is impossible to appeal to every unique individual all at once. Still marketers beg the question, "What goes on in the mind of the consumer?"
Although it is obvious no two people are exactly alike, the Eisenbergs assess: "To create manageable and useful information than can benefit sales and service communication, marketing, and even product development we must look to some commonalities."
The Eisenbergs reference David Kiersey's behavioral analysis of four primary consumer behavior temperaments in an effort to identify more closely to the consumer. The methodical type feels the need to be prepared and organized and asks the question, "How?" The spontaneous type lives in the moment. They ask the question, "Why?" Humanistic types tend to put other's needs before their own and ask the question "Who?" Finally, the competitive type is driven by curiosity and feels the need to understand and control life. They ask the question "What?"
By assessing the basic needs of these four temperaments, the Eisenbergs investigate the concept of preferred consumer behavior within a specific context - buying.
By implementing their strategy of Persuasion Architecture, marketers can anticipate the buyer's next move. "For our purposes, the importance of this framework of the human operating system is not to identify individuals or their individual preferences, but to identify modes of interaction, information- gathering and decision making. This is where we get an idea of the angles people will prefer for approaching the information they require."
Principals of Future Now, Inc., Bryan and Jeffrey Eisenberg help companies maximize results by incorporating expert persuasion techniques into website design as well as email marketing, development, and implementation. Co-authors of the New York Times and Wall Street Journal bestseller "Call to Action: Secret Formulas to Improve Online Results," the Eisenbergs developed the patent-pending Persuasion Architecture marketing framework at the heart of "Waiting for Your Cat to Bark?"
Contact:
Michael Drew
512-858-0040
# # #