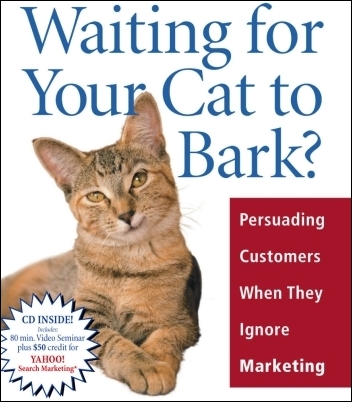 Waiting for Your Cat to Bark?
Nashville, TN (PRWEB) July 19, 2006
According to bestselling authors and co-founders of Future Now Inc., Jeff and Bryan Eisenberg, the customer is gaining control of the buying experience in ways that were never before possible, creating a new consumer confidence. In the Eisenberg's new New York Times and Wall Street Journal bestseller, "Waiting for Your Cat to Bark?" they express, "The most important factors for customers today are the experience itself and the information available about that experience."
In the past, when the available advertising media was limited and global interconnectivity was non-existent, the typical consumer could be easily lured into purchasing products based solely on name brand recognition. Consumers tended to buy the products that were most heavily marketed. With the surge in global communication, largely due in part to the Internet, consumers are finally able to seek out the products and information they require, instead of waiting for it to come to them. But this new consumer confidence creates new challenges for businesses.
"Not since the emergence of the television fifty years ago have we seen such a metamorphosis in consumer behavior," says Murray Gaylord, Vice President of brand marketing at Yahoo! Inc. "In fact, today customers are exerting control by shaping their own purchasing experience."
The Eisenberg's philosophy and principles, built around their Persuasion Architecture model, are designed for businesses which, "within the confines of profitability and integrity, truly want to deliver the experience the customer needs in order to feel delighted."
Principals of Future Now, Inc., Bryan and Jeffrey Eisenberg help companies maximize results by incorporating expert persuasion techniques into website design as well as email marketing, development, and implementation. Co-authors of the New York Times and Wall Street Journal bestseller "Call to Action: Secret Formulas to Improve Online Results," the Eisenbergs developed the patent-pending Persuasion Architecture marketing framework at the heart of "Waiting for Your Cat to Bark?"
Contact:
Michael Drew
512-858-0040
# # #