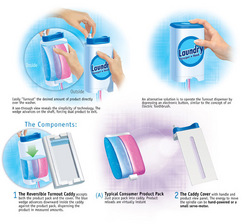 NASA ... we see these products as being very useful
Schenectady, NY (PRWEB) May 23, 2008
Turnout Products Inc. (http://www.TurnoutDispensing.com) is pleased to introduce a new green dispensing technology that can significantly reduce landfill waste as well as shipping, storage and packaging costs for manufacturers. The Turnout dispenser permits easy adaptability for a multitude of medium consistency product applications, including condiments and gels, in the home, commercial, food and fast food industries.
''Current packaging is wasteful,'' says Doug Wiesner, inventor of the product. ''The Turnout technology allows for smaller, lighter packaging with less air space. It is by far, the 'Greenest' dispensing technology available.''
The Turnout dispenser consists of a patented reversible caddy, which is activated manually or by automatic push button. It is the only patented product dispensing system that has no spring or sealed pressure type system, and thus never needs to be "re-cocked" or "re-wound" for refilling.
Detergent gels, softeners, whiteners, and stain removal products could be available in the Turnout-type pack. A pack could contain a single product or have dual compartment product packs and is possible to offer both equal 50/50 product ratios, and unequal product ratios. Turnout is the only patented dispensing approach that allows for auto measuring with .01 oz. accuracy.
''The Turnout technology results in big advantages for manufacturers,'' Wiesner said. ''Untapped market opportunities, reduced cost of packaging and reduced waste translates into a huge return on investment for industry manufacturers.''
The Turnout dispenser also offers many advantages for consumers including: easy and precise measured dispensing, fast and easy re-loading, increased product shelf life, energy savings, and a reduction in contamination of food products.
"NASA ... we see these products as being very useful," said a NASA spokesperson, acknowledging the benefits of using the Turnout technology in the Space Program.
The Turnout technology can also be incorporated in the manufacturing of appliances for home and office, thus providing new sales opportunities. Laundry products could be dispensed automatically into the wash cycle, for instance. Another area of opportunity is the refrigerator appliance, where foods and condiments may be dispensed with the push of a button.
''A Turnout dispenser can be either handheld or integrated into an appliance-unit,'' said Wiesner. ''There is no other patented dispensing option that is as cost efficient, accurate and instinctively easy to use.''
About Turnout Products Inc.
The patented Turnout dispensing technology was created by Doug Wiesner, a self-starting, hands-on innovator and inventor from Ohio. Friendly to the environment, industries and the consumer, the Turnout product dispensing technology is set to revolutionize the dispensing of gels and condiments, while providing a sustainable alternative to the manufacturing, storage and packaging of consumer products. For more information, please contact:
Doug Wiesner
513-515-0003
http://www.TurnoutDispensing.com
###