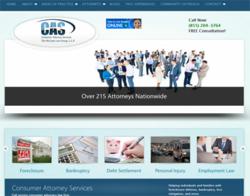 Tons of information that is easy to find
Jacksonville, Florida (PRWEB) February 14, 2013
Consumer Attorney Services completely redesigned and rolled out a freshly updated version of their website in February of 2013 to enrich user experience. The site underwent a complete overhaul, and significant revisions were made to the layout, navigation, content, security and page speed.
The goal of the website adjustments focused on simplifying the user's ability to find useful information and contact Consumer Attorney Services. This was accomplished by adding a clearer, more intuitive menu and contact form on nearly every page of the site. A live chat support option (available from 9 am to 5 pm EST Monday thru Friday) was also implemented.
Consumer Attorney Services strives to perform services at the highest level possible while delivering excellent service. Research demonstrated miscommunication as the number one reason a client grows concerned about their case. For this reason, Consumer Attorney Services created a complaint submission form.
The goal is to resolve client concerns quickly and effectively. Each and every form submission is immediately received, addressed and studied for learning opportunities. Website users can locate the "File a Complaint" page here.
Page speed was also a major concern of the website revisions. Previously, the website could take well over 6 seconds to load completely. After the website revisions, the new Consumer Attorney Services website is ready to use in under 2 seconds.
Strengthening website security was also addressed during website redesign. Consumer Attorney Services wants site users to know with 100% certainty their privacy and security are of the utmost importance to Consumer Attorney Services.
Consumer Attorney Services proudly displays Trust-Guard seals across the website, verifying the site's business, security, and privacy. Trust-Guard is a leading third party verification system that verifies websites so users can trust their information is secure and protected.
Clients and other site users are encouraged to surf the Consumer Attorney Services website to request a free consultation and read helpful articles on foreclosure, bankruptcy and more. Visitors can also learn more about Consumer Attorney Services as a company and their efforts to give back to the local community.
Consumer Attorney Services takes pride in sponsoring efforts to give back to the community. Consumer Attorney Services sponsors many charitable programs including the Hubbard House food and toy drive, the Komen North Florida Race for the Cure, and the Kingdom First Ministries youth mentorship program.
Consumer Attorney Services is a full service consumer advocacy law firm headquartered in Jacksonville, Florida helping families with foreclosure defense, debt settlement, bankruptcy law, and more. Consumer Attorney Services hopes the deployment of their new website will facilitate overall user experience and promote user engagement. Check out our Families Helping Families video series