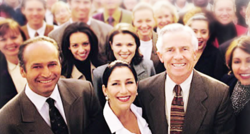 Direct marketers spanning multiple industries will find the data they need in ConsumerBase's comprehensive lists.
Evanston, IL (PRWEB) August 02, 2012
ConsumerBase LLC, a multi-channel mailing list company headquartered in Evanston, IL, is enhancing its growing database with updated data for business executives across a variety of industries. ConsumerBase's executive mailing lists are ideal for business-to-business direct marketers looking for powerful decision-makers in the business world.
"ConsumerBase business executives mailing lists undergo frequent data hygienes to ensure high deliverability and value to our clients," says Larry Organ, CEO of ConsumerBase. "Direct marketers spanning multiple industries will find the data they need in these comprehensive lists."
Individual universe counts for chief executive mailing lists currently on ConsumerBase include:
Chief Executives (CEO)
Hospitals Chief Administrators
Chief Executive Related Magazine Subscribers
Information Systems Chief Officers, Directors and Top Management
Corporate and organizations leaders often have the title of Chief Executive, Chief Operating Officer, Chief Information Officer, Chief Marketing Officer, and beyond. These leaders are responsible for making important decisions regarding financial, marketing, business development and other issues facing the organization. Direct marketers promoting products and services often aim to target key influencers such as business executives.
ConsumerBase continues to add new files to its database each day in a multitude of categories. Direct marketers seeking to develop valuable business connections find data and services provided by ConsumerBase valuable resources for their marketing needs.
About ConsumerBase
ConsumerBase provides multi-channel direct marketing services with a specialty in postal, email, and telephone solutions. Encompassing the entire lifecycle of customer information, ConsumerBase services focus on acquiring and retaining customers, validating, cleaning, and enhancing customer data, and improving the overall performance of marketing communications.
ConsumerBase is an Evanston-based multi-channel mailing list company. The company was founded in 2001 and is based in Evanston, Illinois. ConsumerBase operates as a subsidiary of Organ Worldwide LLC.
Contact:
Kathryn Fallucco, Media Editor
ConsumerBase LLC
http://www.ConsumerBase.com