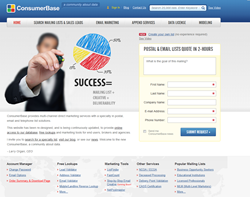 ConsumerBase provides effective append services with high match rates.
Evanston, IL (PRWEB) October 04, 2012
ConsumerBase LLC, a multi-channel mailing list provider located in Evanston, IL, is highlighting its Append Services this week on its recently redesigned website. Append services are a valuable resource and essential tool for direct marketers seeking a cost-effective method for enhancing data.
"ConsumerBase provides effective append services with high match rates," says Larry Organ, CEO of ConsumerBase. "Both consumer and business appends are available, providing marketing professionals with a comprehensive resource for all mailing list needs."
ConsumerBase uses proprietary matching software to maximize the accuracy and quantity of email addresses matched to the client file. After "cleaning" the file, it is then matched against the ConsumerBase data at both individual and household levels.
New files are frequently added to the ConsumerBase.com database, and monthly updates are performed on existing files. ConsumerBase's list quality and superior customer service allows direct marketing professionals to access valuable data and execute marketing campaigns that generate productive results.
ConsumerBase
ConsumerBase provides multi-channel direct marketing services with a specialty in postal, email, and telephone solutions. Encompassing the entire lifecycle of customer information, ConsumerBase services focus on acquiring and retaining customers, validating, cleaning, and enhancing customer data, and improving the overall performance of marketing communications.
ConsumerBase is an Evanston-based multi-channel mailing list company. The company was founded in 2001 and is based in Evanston, Illinois. ConsumerBase operates as a subsidiary of Organ Worldwide LLC.
Contact:
Kathryn Fallucco, Media Editor
ConsumerBase LLC
http://www.ConsumerBase.com