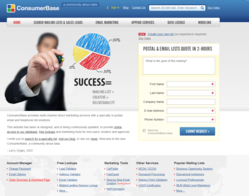 Even as ConsumerBase.com grows, providing high-caliber mailing lists remains our number one priority.
Evanston, IL (PRWEB) September 14, 2012
ConsumerBase LLC, a multi-channel list provider headquartered in Evanston, IL, launched its redesigned website this week as the company moves toward creating a more interactive, user-friendly experience for its clients. Besides visual design changes to ConsumerBase.com, the website introduced new features such as a blog and direct account access for clients.
"We are thrilled to offer this innovative website experience to our clients and the direct marketing community," says Larry Organ, CEO of ConsumerBase. "Even as our website and company grows, providing high-caliber mailing lists remains our number one priority."
ConsumerBase clients are now able to access account data by logging into a personalized account. On the Account Summary page, client orders, invoices, and payment and fulfillment dates are all viewable. Additionally, purchased mailing lists can be downloaded directly from this page. Clients utilizing ConsumerBase's email marketing services will find links to their email creatives and analytics and have the opportunity to provide approval or comments to their client services representative.
The website's fresh look also highlights easier access to Free LookUps such as Lead, Address and Email Validators. The Mailing Lists & Sales Leads Advanced Search, powered by sister website ListFinder, allows direct marketers to quickly peruse available mailing lists in both business and consumer markets.
ConsumerBase plans to provide additional enhancements to the website over the next several months. Taking its reputation as an industry leader to the next level, ConsumerBase works with direct marketing clients to customize their marketing campaigns targeting the best prospective audience and maximize return on investment.
About ConsumerBase
ConsumerBase provides multi-channel direct marketing services with a specialty in postal, email, and telephone solutions. Encompassing the entire lifecycle of customer information, ConsumerBase services focus on acquiring and retaining customers, validating, cleaning, and enhancing customer data, and improving the overall performance of marketing communications.
ConsumerBase is an Evanston-based multi-channel mailing list company. The company was founded in 2001 and is based in Evanston, Illinois. ConsumerBase operates as a subsidiary of Organ Worldwide LLC.
Contact:
Kathryn Fallucco, Media Editor
ConsumerBase LLC
http://www.ConsumerBase.com