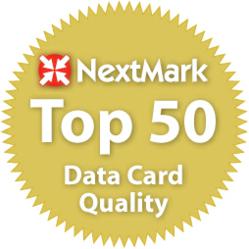 ConsumerBase lists over 4,000 managed data cards in NextMark's mailing list catalog
Evanston, IL (PRWEB) April 10, 2012
ConsumerBase LLC, a mailing list company located in Evanston, IL, ranked number one in data card quality once again by NextMark in its quarterly report as of April 1, 2012. NextMark's multi-channel media planning site releases quarterly reports of the top list managers publishing high quality data card portfolios.
"The dedication our company has to providing the best quality and service to our clients is clearly represented in this report," says Larry Organ, CEO of ConsumerBase. "It's only going to continue to grow."
ConsumerBase's history of providing quality data cards is evidenced by a consistent first place ranking on NextMark's report. The company lists over 4,000 managed data cards in NextMark's list catalog. ConsumerBase's own mailing list database contains over 25,000 data cards.
Click here to search ConsumerBase's mailing lists and view sample data cards
NextMark is responsible for managing one of the most comprehensive data card indexes available. The quality score used to rank list managers is electronically calculated by analysis of data card attributes. Data cards contain valuable details of the content and characteristics of a mailing list, including pricing options, universe counts and descriptions. This content makes data cards indispensable tools for direct marketers looking to buy mailing lists for an enhanced marketing campaign.
Click here to view NextMark's Q2 Data Card Quality Report
About ConsumerBase
ConsumerBase provides multi-channel direct marketing services with a specialty in postal, email, and telephone solutions. Encompassing the entire lifecycle of customer information, ConsumerBase services focus on acquiring and retaining customers, validating, cleaning, and enhancing customer data, and improving the overall performance of marketing communications.
ConsumerBase is an Evanston-based multi-channel mailing list company. The company was founded in 2001 and is based in Evanston, Illinois. ConsumerBase operates as a subsidiary of Organ Worldwide LLC.
Contact:
Kathryn Fallucco, Media Editor
ConsumerBase LLC
http://www.ConsumerBase.com