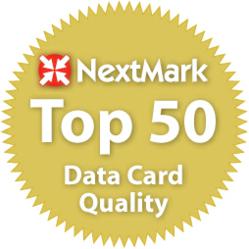 We currently have over 2,500 lists on NextMark.
Evanston, IL (PRWEB) January 16, 2012
ConsumerBase LLC, a mailing list company based in Evanston, IL, ranked 1st in overall data card quality on the multi-channel media planning site, NextMark, earlier this month. NextMark manages one of the most comprehensive indexes of data cards on the market. The cards are an industry-wide standard for providing list buyers with information on a variety of mailing lists. ConsumerBase ranked first on the list for the last 3 quarters and now lists over 2,500 unique cards on the site.
"Our focus when posting these lists is on the relevancy and accuracy of our card titles and counts," says Larry Organ, CEO of ConsumerBase. "We currently have over 2,500 lists on NextMark. Each card contains the most up-to-date information about the list, giving us a competitive advantage when we vie for a list buyer's business."
The data card quality score is calculated electronically. Each quarter NextMark analyzes thousands of data cards in its list database. The data cards provide frequently updated, real-time information on the number of records in a list, costs and fees associated with renting a list and other important information for data prospecting.
Click here to view NextMark's Q1 Data Card Quality Report.
About ConsumerBase
ConsumerBase provides multi-channel direct marketing services with a specialty in postal, email, and telephone solutions. Encompassing the entire lifecycle of customer information, ConsumerBase services focus on acquiring and retaining customers, validating, cleaning, and enhancing customer data, and improving the overall performance of marketing communications.
ConsumerBase is an Evanston-based multi-channel mailing list company. The company was founded in 2001 and is based in Evanston, Illinois with a regional office in Fort Myers, Florida. ConsumerBase operates as a subsidiary of Organ Worldwide LLC.
Contact:
Zora Senat, Media Director
ConsumerBase LLC
http://www.ConsumerBase.com
###