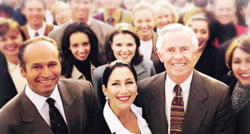 ConsumerBase continues to add the highest quality data to our comprehensive database.
Evanston, IL (PRWEB) April 26, 2012
ConsumerBase LLC, a multi-channel list provider located in Evanston, IL, is announcing the addition of new religious organization mailing lists to its database this week. The new files include categories such as religious leaders, community members, donors and more for a variety of religions.
"ConsumerBase continues to add the highest quality data to our comprehensive database," says Larry Organ, CEO of ConsumerBase. "These recent additions further enable our clients to run a successful direct marketing campaign."
ConsumerBase already catalogues a large amount of religious organization files in its database.
Universe counts for these mailing lists include but are not limited to:
Christian Book Purchasers - 2,760,113
Buddhist American Households - 1,347,397
Religious and Spiritual Causes Donors - 1,078,449
Religious Institutions By Location - 236,206
Religious organizations are often involved in humanitarian aid, spiritual education and other community outreach efforts in addition to providing space for spiritual worship. As a result, these organizations and their members are an ideal target audience for both B2B and B2C direct marketers looking to advertise spiritual goods and services to religious community members, educational institutions and leaders within their respective communities.
New files are frequently added to the ConsumerBase database, and monthly updates are performed on existing files. ConsumerBase's list quality and superior customer service allows direct marketing professionals to access valuable data and execute marketing campaigns that generate productive results.
About ConsumerBase
ConsumerBase provides multi-channel direct marketing services with a specialty in postal, email, and telephone solutions. Encompassing the entire lifecycle of customer information, ConsumerBase services focus on acquiring and retaining customers, validating, cleaning, and enhancing customer data, and improving the overall performance of marketing communications.
ConsumerBase is an Evanston-based multi-channel mailing list company. The company was founded in 2001 and is based in Evanston, Illinois. ConsumerBase operates as a subsidiary of Organ Worldwide LLC.
Contact:
Kathryn Fallucco, Media Editor
ConsumerBase LLC
http://www.ConsumerBase.com