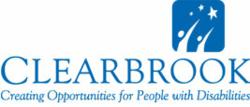 We encourage others to join us in our support of Clearbrook
Evanston, IL (PRWEB) November 10, 2011
ConsumerBase LLC, an Evanston-based multi-channel list company, is making a donation to support Clearbrook's Holiday Appeal campaign. Last year ConsumerBase sent out fruit baskets last holiday season to major clients. "This year we'll send out cards to thank our clients for another good year of business, and let them know that we're supporting Clearbrook, a local charity, in lieu of sending gifts," says Larry Organ, CEO of ConsumerBase, who also sits on the Board of Directors for Clearbrook. "We encourage others to join us in our support of Clearbrook and other organizations dedicated to developmental disabilities."
Clearbrook has served people with developmental disabilities for more than 55 years. A leader in its field, Clearbrook works with over 3,400 children and adults and their families living with disabilities, in more than 80 communities throughout Chicago and its surrounding suburbs. Clearbrook employs 900 full and part time staff and provides services in over 40 locations.
"In the face of federal and state cutbacks, we appreciate the support from Larry Organ, Colm Ronan and the rest of ConsumerBase," says Carl M. La Mell, Founder and President of Clearbrook. ConsumerBase plans to continue to support Clearbrook in future.
Click here to donate to Clearbrook or attend one of their charity events.
About ConsumerBase:
ConsumerBase provides multi-channel direct marketing services with a specialty in postal, email, and telephone solutions. Encompassing the entire lifecycle of customer information, ConsumerBase services focus on acquiring and retaining customers, validating, cleaning, and enhancing customer data, and improving the overall performance of marketing communications.
ConsumerBase is an Evanston-based multi-channel mailing list company with regional offices across the United States. The company was founded in 2001 and is based in Evanston, Illinois with a regional office in Fort Myers, Florida. ConsumerBase operates as a subsidiary of Organ Worldwide LLC.
Contact:
Zora Senat, Media Director
ConsumerBase LLC
http://www.ConsumerBase.com
###