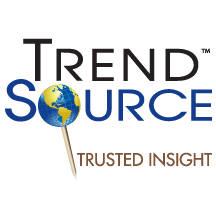 San Diego, CA (PRWEB) December 06, 2012
Where are consumers shopping this holiday season? TrendSource asked over 3,600 people where they intend to shop and ranked all the retailers they mentioned across four age groups (under 30, 31-40, 41-50, 51+). No preset list of retailers was given to these respondents and their responses revealed some interesting differences.
While some of the results are not surprising such as the presence of popular multi-category retailers like Wal-Mart, Amazon, Target and Best Buy, which are consistently top holiday shopping destinations, there were a few surprises.
A Closer Look Reveals…

Barnes & Noble made the top ten list for all age groups even though printed book sales have plummeted with the growth of tablets and digital books.
As has come to be expected, Amazon was in the top two across all age groups, and eBay is the only other internet retailer ranked in the top ten, but it was only ranked by the under 30 crowd.
Kohl's surpassed Macy's across the board with Macy's only ranked in the top 10 for the 51+ age category.
While GameStop was a consistent top ten performer, a decreasing trend to shop there appears as age increases, failing to make the top ten for the 51+ age group.
For access to the complete 2012 Consumer Buying Intentions Study, including what consumers are saying about the top gift categories and products this holiday season, click here or go to http://insight.trendsource.com/acton/formfd/3289/0004:d-0004.
After the holidays, TrendSource will be conducting a follow-up study to analyze consumers' actual holiday shopping experiences and overall sentiments. If you're interested in making the data impactful for your organization, send 1-2 key questions you want to know from holiday shoppers to sales(at)trendsource(dot)com, and TrendSource will provide the finalized results at no charge.
About TrendSource and This Study
TrendSource provides business intelligence, customer experience insight, compliance solutions, and other market research and data analysis programs to help businesses make strategic decisions concerning the customer experience, bridging the gap between what customers expect from a business and what is being delivered at the moment of truth, when a customer is making a buying decision. TrendSource Customer Experience Programs identify trends, quantify service gaps and provide actionable prescriptive/corrective solutions through enhanced reporting and analysis.
TrendSource has the unique distinction as a market research organization that is an ISO 9001:2008 certified company.
TrendSource surveyed North American Field Agents in the MSI database between October 29th and November 9, 2012. All respondents opted in to respond voluntarily.
The results of this study represent 3,620 online respondents.
For more information about this study or TrendSource services, email sales(at)trendsource(dot)com.