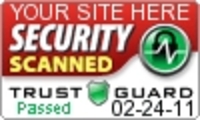 Consumers are worried and the business world will have to catch up if they want to continue selling online.
Ogden, UT (PRWEB) April 5, 2011
Trust Guard, leading website security company, addresses consumer report concerns. National consumer reports surveys show that the number one concern visitors have: How safe is my personal information? Trust Guard answers with, "not safe at all if you don't know what you're looking for".
"There is a huge misunderstanding about website security. The truth is, SSL security represented by the lock image" found at the bottom of the screen, doesn't protect information once it gets to the website. In order to really prevent Identity theft, or theft of sensitive information, there has to be website security scanning. Hackers have used website scanning as a weapon to help them find security holes, or weak points, to hack. Website security scanning beats them at their own game by scanning websites faster, finding holes and reporting them to the owner before hackers can get in. Without the good guys scanning, and reporting security holes, you just have the bad guys scanning, and breaking in" says Dave Brandley, Co-Founder of Trust Guard.
Brandley added, "It seems many companies are not taking advantage of website security scanning which is appalling considering the statistics on identity theft.".
The federal trade commission reported 8.3 million Americans fall victim to identity theft each year. The IdentifyTheft Resource Center reported between a quarter and a third of victims spend 4 to 6 months correcting the aftermath of their identity theft cases. Gartner Research released figures showing as many as "85% of network attacks that successfully penetrate network defenses are made through vulnerabilities for which patches and fixes have already been released".
"The internet is safe, and exchanging information is safe, if ,and only if, there is full security in place. Full security means an SSL certificate, and a website with PCI compliant security scanning. Otherwise, I would not give out personal information unless you want it to be taken and used against you. Business' at this point should feel the pressure and responsibility of protecting their customers. It's a shame that with all of the information out there, everyone isn't doing what they can to protect their customers, and their own interests." says Brandley.
Trust Guard concluded their statement regarding the National Consumer Reports stats with a simple sentence, "Consumers are worried, the business world will have to catch on if they want to continue selling online. The proof is in the surveys".
###