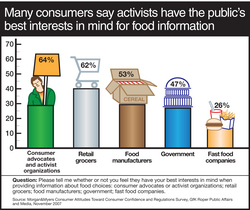 The United States has the safest, most heavily regulated food supply in the world. Still, consumers seem to lack confidence even though our food system proves itself to be reliable and safe, day-after-day, with very few exceptions
Waukesha, WI (PRWEB) December 5, 2007
U.S. consumers have greater faith in activists and retail grocers than either government or food companies when it comes to providing information about food choices. That's according to a new GfK Roper Public Affairs and Media survey commissioned by Morgan&Myers, a communications firm specializing in food and agriculture.
Results from the national poll confirm that about two-thirds of consumers (64 percent) say advocates and activist groups have consumers' best interests in mind when it comes to providing information about food choices. Those feelings were even more pronounced among "Influentials,*" - potential thought leaders identified in the survey. Nearly three out of four
(74 percent) of Influentials feel advocates and activists have consumers' best interests in mind.
Advocates and activists were among five groups asked about in a separate part of a larger GfK OmniTel consumer product quality poll commissioned by The Worldcom Public Relations Group, the world's leading network of independently owned public relations consulting firms.
Retail grocers also ranked highly (62 percent) and food manufacturers ranked third (53 percent). With consumers split at 47 percent, the U.S. government ranked fourth, ahead only of fast food companies (26 percent).
"These results support the idea that activists may have been successful in dominating discussions about food policy, and possibly engaging effectively with the important Influentials audience," says Bob Giblin, a senior public relations counselor and research director who tracks food and agricultural issues for Morgan&Myers. "Activists and advocacy groups have worked hard to appeal to consumer values. While government and industry actually are doing more to act in consumers' interests than they're getting credit for, they may not be engaging with Influentials, or using values-based, word-of-mouth strategies favored by modern consumers. Nearly a billion meals are served daily in the United States, yet the food industry and government continue to have an up-hill march to build confidence and trust."
Confidence that the U.S. government has adequate regulations to assure the safety of food ranked fifth out of six categories asked about in the Worldcom poll. Only half (50 percent) of consumers are confident in the adequacy of food safety regulations, ranking well below automobiles (83 percent), consumer electronics (80 percent) and clothing (77 percent), and slightly below pharmaceuticals (51 percent). The only category food safety ranked above was toys (37 percent).
Ground beef and toys were subjects of highly publicized recalls in the past year. Only 46 percent of Americans feel the government has adequate food safety regulations for meat (i.e., beef, pork and poultry), and 48 percent for seafood. Breads, cereals and grain products rated highest (65 percent), followed by fruits and vegetables (58 percent), and dairy products (57 percent).
"The United States has the safest, most heavily regulated food supply in the world. Still, consumers seem to lack confidence even though our food system proves itself to be reliable and safe, day-after-day, with very few exceptions," says Beth Witherspoon, MPH, RD, a Morgan&Myers public relations counselor specializing in food and nutrition. "Confidence in food safety and the food supply are important for Americans to ensure a healthy and balanced diet. When people lack confidence, they eliminate entire classes of food from their diets, which may prevent them from getting a varied diet that contributes to overall health and wellness."
About the Survey
Findings cited in this release are from a national random digit dial (RDD) telephone survey of 1,009 adults (18 ) in the contiguous United States. All interviews were conducted from November 16-18, 2007. Findings for the total sample are projectable to the American adult population within a /-3 margin of error, on average, at the 95 percent confidence level. The survey was conducted by GfK Roper Public Affairs & Media on behalf of The Worldcom Group and Morgan&Myers.
*The Influentials is a registered trademark of GfK, and it is a GfK-exclusive political/social activity index built out of responses to a list of activities survey participants reportedly engaged in during the last year. Respondents who have engaged in three or more of these activities (beyond signing a petition) are classified as "Influential" - and may be roughly equated with "thought leaders."
About Morgan&Myers and The Worldcom Public Relations Group
Morgan&Myers is a full-service communications and consulting firm that builds brands, relationships and reputations throughout the food supply chain, including agricultural suppliers and producers, processors, retail and foodservice, food and nutrition influentials, and consumer product companies. The company has offices in Waukesha, Wis.; Minneapolis; and Waterloo, Iowa. Morgan&Myers is a partner in The Worldcom Public Relations Group, the world's leading network of independently owned public relations counseling firms, with some 112 offices in 93 cities worldwide. Established in 1988, it was formed so that the strongest, most capable independent public relations firms could serve national, international and multinational clients while retaining the flexibility and client-service focus inherent in independent agencies. Through The Worldcom Group, clients have on-demand access to in-depth communications expertise from professionals who understand the language, culture and customs of the geographic arenas in which they operate.
# # #