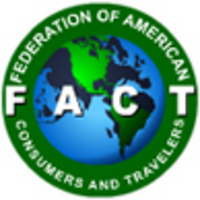 What does it all mean to me?
Edwardsville, IL (Vocus) June 9, 2010
Vicki Rolens, managing director of the Federation of American Consumers and Travelers (FACT), says that many members have expressed concern about the national debt, but most have the same essential question: "What does it all mean to me?"
FACT, a national not-for-profit corporation, has scoured dozens of financial information sources in order to come up with an explanation that the layman can easily understand. The association, which was founded in 1984 and which has no political ties or agenda, has published a three-page report in its FACTFinder newsletter.
"It's difficult to come up with a simple explanation when a problem is so complex," Rolens says, "but the issue is so obviously important to our members that we must at least try."
Rolens says the FACT report begins with some basic definitions:
The annual budget deficit is the amount by which the government's expenditures exceed its tax revenues in a given year. The deficit must be offset by cutting services and costs, by borrowing and/or by monetizing debt (i.e., printing money).
The public debt is the sum of all securities issued by the United States Treasury and held by the public to offset the sum of all accumulated annual budget deficits.
The national (or gross) debt is a combination of the public debt and money which the government owes to itself, such as money taken from the Social Security Trust Fund which must ultimately be paid back."
Gross Domestic Product (GDP) is the total market value of all goods and services produced in the U.S. in a given year. This is the total amount of consumer, investment and government spending, plus the value of exports and minus the value of imports.
"There are economists," Rolens points out, "known as fiscal doves. It is their position that budget deficits and a high debt are actually necessary to a nation's fiscal health.
"There are many others, however, who state that high ratio of national debt to GDP are 'perilous' and will inevitably result in higher taxes, unchecked inflation, growing unemployment levels and a seriously devalued dollar.
"We don't know who is right or wrong, but the average consumer may want to hunker down and save money as he or she has never saved before. If the dire warnings turn out to be true, each of us will need a personal stockpile to fall back on ... this may be a time to give up some of life's nonessentials and put any extra cash in a safe place until and unless the uncertainty and turmoil pass by."
The full national debt report, including further suggestions are available to FACT members by visiting http://www.usafact.org and clicking on FACTFinder.
This news bulletin has been issued by The Federation of American Consumers and Travelers (FACT), a consumer organization formed under the not-for-profit corporation laws of the District of Columbia in 1984.
FACT serves more than 1 million consumers nationwide. Additional information on FACT may be found in the Encyclopedia of Associations, and by visiting the association's Web site (http://www.usafact.org).
Informative, unbiased news bulletins are regularly disseminated by FACT to help its members remain current on matters which might seriously impact their lives. The association does not offer support to -- and does not receive support from -- any political party or movement. In addition to publishing consumer-related reports, the association provides more than 30 benefits for its members, ranging from medical insurance and dental discounts to prescription drug savings and scholarships. FACT's administrative office is located at 318 Hillsboro Avenue, Edwardsville, IL 62025.
###